If you've come across JBL Flip speakers, Oraimo has a competitor with their Oraimo Rover RGB speaker. The latter comes at a pocket-friendly price but how good is it and can it be your main portable speaker?
I bought the Oraimo Rover RGB Bluetooth speaker a couple of months ago and have been using it almost daily. Here's my honest review of my experience with this flashy speaker. It's a nice speaker but read this before you make a purchase—I'll also provide links on where to get it at a discount.
What's In the Box?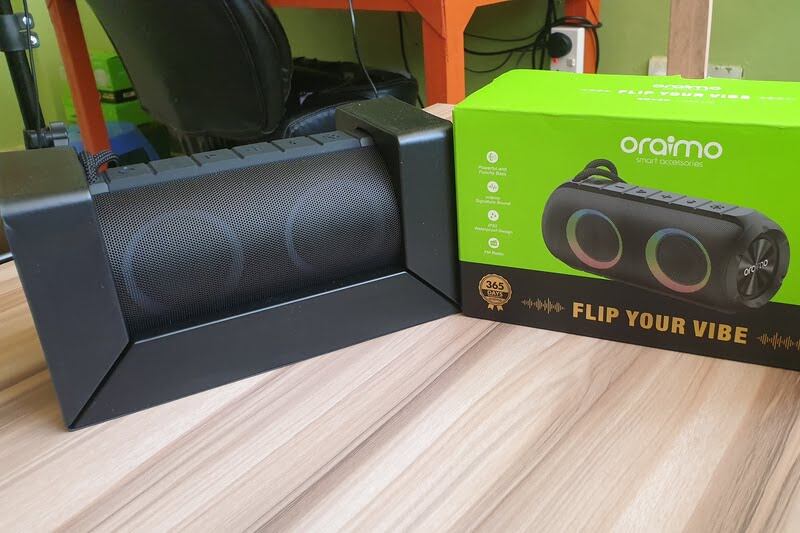 As always, Oraimo doesn't disappoint with the packaging of its products. The Oraimo Rover came in a hard box with a plastic case to hold the speaker in place inside the box. Besides the speaker, you'll find a user manual which I recommend reading if you're new to Oraimo devices, and a green, short Type-C cable.
The Oraimo Rover comes in one color—Black, so you'll have to bear with the black one. That's just about it—once you take it out of the box, I recommend charging it for a few minutes in case it doesn't have any juice for testing.
Oraimo Rover Build Quality
As much as the Oraimo Rover is mostly plastic, it doesn't take away the fact that it feels premium and durable. On the front, there's a metallic mesh to protect the dual speaker unit inside and the back is plastic.
The bottom stand is also plastic and the top where the control buttons are is made of silicone. The sides house a pair of bass radiators with Oraimo branding. At the top, you'll also find a knotted lace strap that comes in handy when carrying the speaker around or hanging it on a wall or something.
The build quality is excellent, and being largely plastic doesn't take anything away from it.
How Does the Oraimo Rover Sound?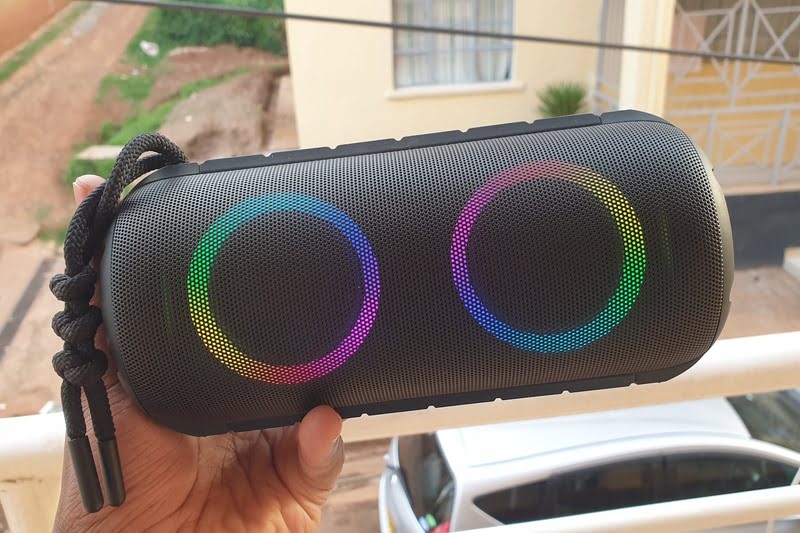 I use this speaker as the main speaker in my house because I don't have a home theatre system. The sound quality is great and it never distorts my music or podcasts even at maximum volume. The bass is punchy and you can even pull off a small party with it.
It would come in handy if you ever have people around for a party and the power went out. The Oraimo Rover has two 6 Watt speakers which are responsible for the great sound. However, it's not as good as the JBL Flip 4/5/6 but considering the price difference, the Oraimo Rover is a decent speaker.
You can place it on a flat surface vertically or horizontally depending on the space you have available. You can also hang it somewhere using the strap that comes tied to the speaker.
How Do You Pair the Oraimo Rover and Available Ports?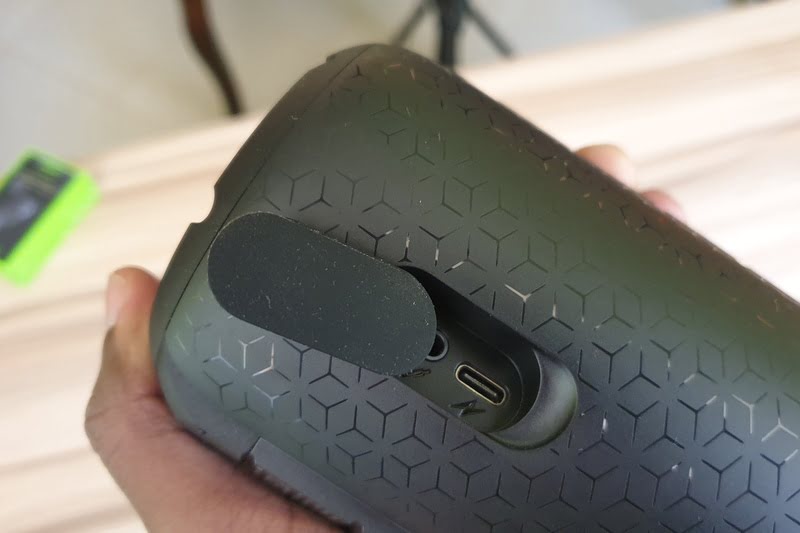 Pairing this device is pretty straightforward and fast thanks to the 5.3 Bluetooth version. Once you turn the speaker on, scan for available Bluetooth devices from your phone or computer and start enjoying your music.
For ports, the Oraimo Rover comes with just two ports—a charging port and an auxiliary cable port which you can use if your device doesn't support Bluetooth. Unfortunately, there's no mic port for your karaoke mic.
How Do You Control the Oraimo Rover?
The Oraimo Palm has six different control buttons—from left to right it has the power button, volume down, pause/play, volume up, TWS pairing button, and the RGB lights power button. These buttons do just what their descriptions say.
However, there are special controls like switching between FM, Bluetooth, and AUX modes. To switch modes, tap the power button once after turning on the speaker. You can also double-press the power button to check the speaker's battery level. Long-pressing the power button will turn the device on or off.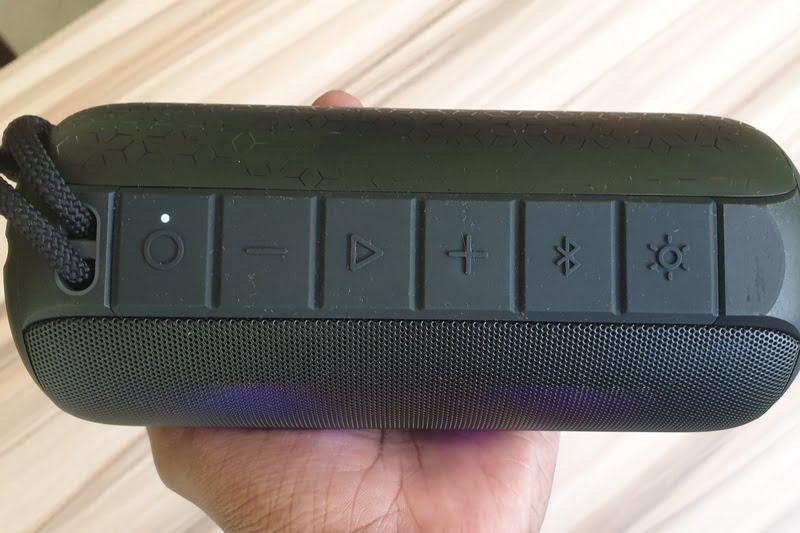 Long-pressing the volume up or down button will switch between songs or radio stations depending on the mode you're in. Doing the same on the power button will scan for available radio stations if you're in FM mode.
The TWS pairing button will pair two Oraimo Rover speakers in stereo mode for a richer listening experience. I'm yet to purchase a second speaker to test out this feature.
Lastly, long-pressing the RGB lighting button will turn the lights around the dual speakers on or off. Pressing the button once will switch between the available lighting modes. My favorite is when the RGB lights react to the beat of the music you're playing.
RGB lighting will not work when you're in FM radio mode.
Can You Make Calls on the Oraimo Rover?
The Oraimo Rover doesn't come with a mic which means you can't make calls with the speaker. As much as this may be disappointing to some, I don't think it takes anything away from the speaker. The calling experience on most speakers is whack anyway.
How Long Does the Oraimo Rover Battery Last?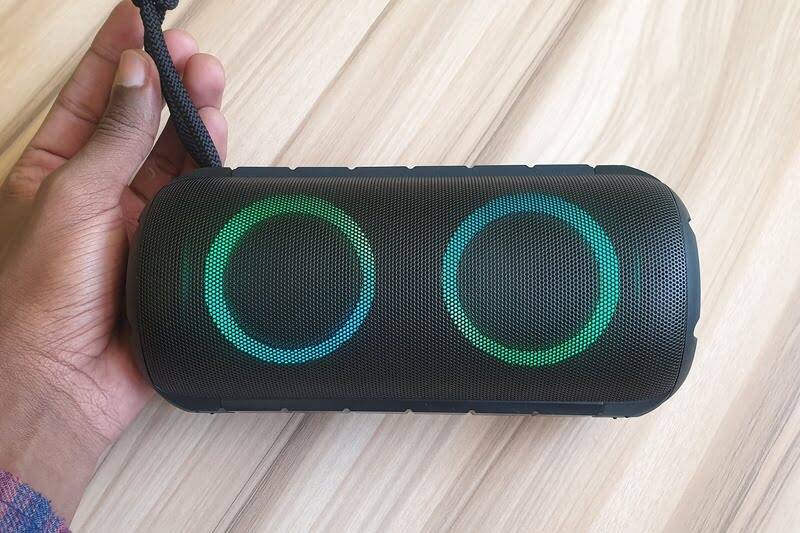 The Oraimo Rover comes with a 2,400mAh battery and I only tested it in Bluetooth mode with the RGB lights turned on at about 80% volume. It lasted for about five and a half hours—it should last a little bit longer if you turn off the RGB lighting.
I haven't tested the battery life in FM mode but I guess it'll last a little bit shorter because FM radio signals consume more power than Bluetooth. I also guess AUX mode will last a little bit longer.
Charging time on the Oraimo Rover depends on the kind of charger you have. My 5W Samsung charger usually takes about three hours to charge from 0-100 percent.
To check the available battery, you'll have to double press the power button when the device is on—a voice prompt will let you know whether the battery is high, medium, or low. It's technically a guessing game as you can't the exact available battery capacity.
Is the Oraimo Rover Speaker Waterproof?
The Oraimo Rover has an IPX5 waterproof rating. What does this mean? It means the device isn't completely waterproof but it can withstand low-pressure water jets from any angle. It can withstand rain, sweat, and splashes.
Oraimo Rover Specifications
Bluetooth version—5.3
Distance—10m
Drivers—50mm(x2)
Bass radiators—66mm(x2)
Audio output—6W(x2)
Waterproof rating—IPX5
Battery capacity—2,400mAh
Charging port—Type-C
Should You Buy the Oraimo Rover RGB Bluetooth Speaker?
I use the Oraimo Rover as my main house speaker and I'd highly recommend it. You should definitely get it considering its friendly price of NGN19,500 from Oraimo Nigeria or KES4,200 from Oraimo Kenya.
Use the following codes to get a special discount in Nigeria or Kenya after using the links above.
5% Discount Code Nigeria: TE5LIILHQEYU
5% Discount Code Kenya: X0RMSJB1BPGW
Not only will you receive a special discount, but using my links and codes will also help in supporting the maintenance of this blog, enabling me to continue providing more reviews.
Pros
Elegant design
Loud and clear
Powerful bass
Beautiful RGB lights
Portable
Affordable
Strong carrying strap
Cons
Battery life could be better
No mic for calls
No memory card/flashdisk slot
You can use this speaker for both music and movies. It sounds great and I recommend getting one or a pair.
User Ratings (

7

Votes)