Over the years of its existence, WhatsApp has become a critical tool in running small businesses. I even know of people who run their hustles purely on this platform.
In 2018, WhatsApp released a modified version of their popular messenger targeting business owners—WhatsApp Business.
In this guide, I'm going to share everything that you can do with WhatsApp Business to promote your business. In case you're wondering, WhatsApp Business is 100 percent free!
But first, if you've not used WhatsApp Business before, the table below shows the differences between the app and the normal personal WhatsApp that you're used to.
WhatsApp Business vs. WhatsApp
| | | |
| --- | --- | --- |
| Feature | WhatsApp Business | WhatsApp Personal |
| Pricing | Free | Free |
| Profile | Detailed | Limited |
| Web | Yes | Yes |
| iOS | Yes | Yes |
| Android | Yes | Yes |
| Calling | Audio/Video | Audio/Video |
| Chat labels | Yes | No |
| Quick reply | Yes | No |
| Auto reply | Yes | No |
There are some additional features available on WhatsApp Business to help you run your business. However, please note that you can still use WhatsApp Business for personal use like communicating with friends and family.
How to Open a WhatsApp Business Account
Opening a WhatsApp Business account is similar to opening an ordinary WhatsApp account. Follow these steps;
Go to the Google Playstore if you're on Android or the App Store if you're on iPhone.
On the search bar, type WhatsApp Business.
The app we're looking for should have a green WhatsApp-like icon with a 'B' at the center as you can see below.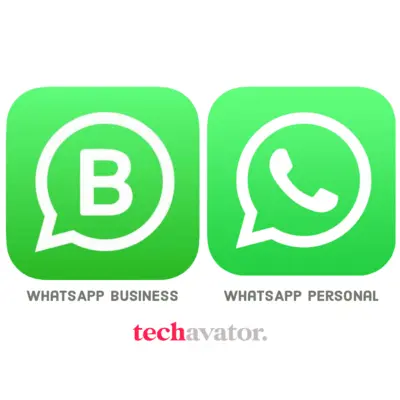 Install the app and open it.
Follow the prompts to set up your account by entering your business phone number.
If the number is already being used on an existing account, you'll be asked to switch accounts if the other WhatsApp is already running on your phone.
Accepting the switch will port over all your existing chats from WhatsApp to WhatsApp Business.
You'll be asked to provide your business details, and operating hours and even set up a catalog of products that you sell (you can do this later).
Your account is now ready. All you'll have to do now is take nice pictures of your products for customers to see in your catalog.
How to Use WhatsApp Business for Business Promotion
In the previous section, I talked about having a product catalog. This is the main feature that makes WhatsApp Business a powerful promotion tool.
Here's how to set up your WhatsApp Business catalog for the first time;
Open WhatsApp Business and tap on the three dots on the top right.
Tap on the Business tools option and open Business Profile to fill in your business details.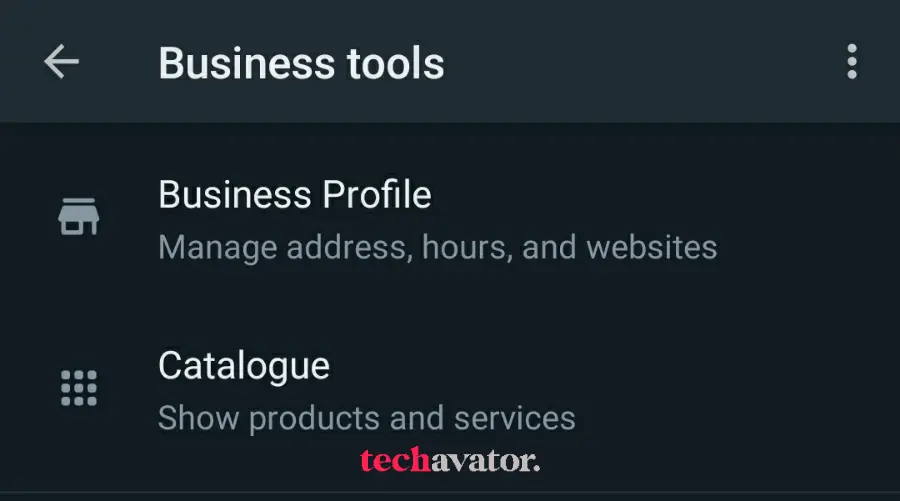 Once your business details are in order, press the back button to go to the Business tools menu.
Tap on Catalog to start adding the products and services that you sell.
Click on Add new item.
In this section, you can add product images, item names, price, description, and a link to the item if you have an e-commerce site.
Tap on SAVE on the top right, and your product will be visible when a customer visits your WhatsApp profile.
In some instances, WhatsApp may ask you to wait for a few minutes to review your product. It shouldn't be something to worry about.
If your business is on Facebook and you use Facebook Shops, you can sync your existing catalog with WhatsApp Business. All you have to do is add your number to your Facebook Business Manager and follow these instructions.
Syncing with Facebook Shops means you don't have to add your products to your WhatsApp catalog manually. All your products will be visible on your WhatsApp profile as long as you keep your profile connected to your Facebook Business account.
Wrapping Up
I've personally used WhatsApp Business alongside Facebook Shops to run a little side hustle—it's a nifty tool that works like magic. If you have any kind of product-based business, I'd recommend trying it out and seeing how good it is for customer relations.
Download WhatsApp Business from the App Store or Play Store and lemme know what you think about it in the comments section.