The Oraimo Palm is a small portable speaker you can carry around in your pocket for on-the-go entertainment. If you've come across it and want to know whether it's worth your consideration, this guide is for you.
Delivery from Oraimo's online store took one day and I'd recommend you also make your purchase from there if you settle on this device. I've been using the Oraimo Palm for a few weeks now and here's everything you need to know before you make a purchasing decision.
What's In the Box?
The unboxing experience of the Oraimo Palm is one of the best you'll have for a product at such a price point. It comes in premium transparent plastic and cardboard packaging. I'm not throwing mine away anytime soon just because it looks great.
You'll find the speaker, a charging cable, a carabiner clip, and a detailed user manual in the box. The carabiner clip is for hooking the Bluetooth speaker onto something like a hiking bag or your belt if you're on the move.
How's the Build Quality of the Oraimo Palm?
As the name suggests, the Oraimo Palm will fit in one hand. It's quite small but it packs a punch as we'll find later on in this post.
On the first touch, the Oraimo Palm feels as good as any premium speaker from big brands like JBL or Anker. It's neither too heavy nor too light. It has a rubber protective casing that not only protects it from falls but also enhances its aesthetics.
On the front, a metallic mesh with Oraimo branding covers the actual dual speakers that you can see if you look closely enough.
The top features three buttons; a power button, volume up, and volume down which also double as seek buttons when you long press them. The bottom has an enclosed USB charging port and aux audio port. The casing is water-proofing purposes.
How Do You Control and Pair the Oraimo Palm?
The Oraimo Palm comes with three control buttons. To turn it on, you'll long-press the power button with the (O) symbol. if the device is already turned on, long-pressing the same button will turn it off.
You'll control the volume using the two buttons—the one with the (+) symbol will increase volume and the one labeled (-) will decrease volume. Long-pressing these buttons will skip and previous your song playlist respectively.
Pairing the Oraimo Palm is easy. When you power it on and it isn't connected to any device it'll go into pairing mode. You'll know through a voice prompt. Go to Bluetooth settings on the device you want to pair, scan devices, and locate Oraimo Palm from the available devices.
How Long Does the Oraimo Palm's Battery Last?
Oraimo claims up to 5 hours of continuous playtime on a single charge. I charged the Oraimo Palm to 100 per cent, which took about 40 minutes with my charger. I then played music at almost maximum volume.
I was able to get exactly 3 hours of continuous playtime on a single charge before the voice prompt warned me that my battery was low. It went off about five minutes later.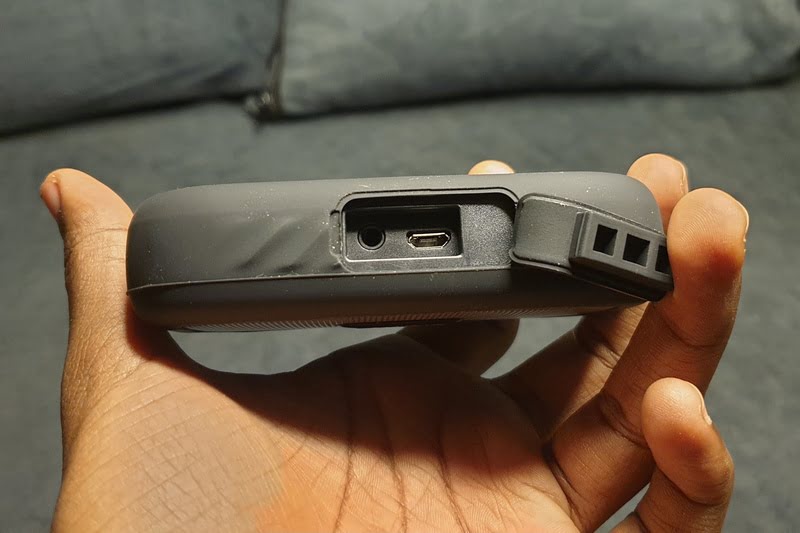 Not as impressive as the Oraimo SoundView on which I was able to get more than double the amount of playtime. But it's worth noting that the Oraimo Palm's battery has a small capacity of 400mAh compared to the former's 1,200mAh.
The Palm speaker has a conspicuously large LED indicator to help you know the battery status. When it's steady red, the device is charging. Steady blue means that the device is fully charged.
How Does the Oraimo Palm Sound?
For a speaker its size, the Oraimo Palm has a surprisingly powerful bass. The quality is crisp and clear and doesn't distort even at maximum volume. It's also quite loud.
You can enjoy music on this device but I don't personally use it for music. I mainly use it for listening to podcasts and watching movies and videos. You can easily mistake it for a budget subwoofer, especially when watching movies.
The Oraimo Palm is now my everyday speaker since I don't own a subwoofer or a soundbar.
I noticed one problem when watching videos—there's always a slight audio delay. It's annoying and easily detectable but you'll have to live with it.
Pro Tip: The Oraimo Palm will sound even better when you place it on surfaces like your table, desk, counter top, couch, or bed—especially the couch and the bed.
Is the Oraimo Palm Really Waterproof?
Yes, the Oraimo Palm is waterproof with an IP67 rating. You won't have anything to worry about if you happen to drop the device in a pool or a bucket to water. I tested it myself and made a YouTube video where I dip it in a bowl of water.
For its price, this is a welcome feature that you can even show off to your friends. If you're hiking and have it hanging from your bag or camping outside, the rain won't damage the speaker.
Does the Oraimo Palm Have a Mic?
No, you can't even make calls on this device. I found this strange because, on my phone's Bluetooth settings, it says that the device is available for making calls. I'll have to test it on another phone to confirm whether a mic is available.
One other thing that you may miss on this device is an FM tuner. You can't listen to FM radio on the Oraimo Palm. But you may welcome the availability of a 3.5mm aux in port if you have a music player without Bluetooth connectivity.
How Much Does the Oraimo Palm Cost?
The Oraimo Palm costs KES1,400 at the time of this writing in Kenya on Oraimo's official online store. If you're in Nigeria you can visit the Oraimo Nigeria e-shop where it retails at NGN8,150. You'll get a 5% percent if you use these promo codes:
5% Discount Code Nigeria: TE5LIILHQEYU
5% Discount Code Kenya: X0RMSJB1BPGW
I recommend buying it from Oraimo themselves because it may be a bit more expensive in other stores. However, if this option isn't available to you, the likes of Jumia would be a great choice. You could also walk into any physical store that offers genuine Oraimo products.
Should You Buy the Oraimo Palm Speaker?
Yes, we highly recommend this speaker. Despite its shortcomings, the Oraimo Palm will be real value for money if you consider the audio quality, price, and waterproofing feature. It also feels premium and would be a great addition to any desk in the world.
What We Like
It's waterproof
Good bass and quality audio
Affordable
Build quality
Carabiner clipping mechanism
What We Don't Like
Battery life
No FM radio
Noticeable latency on videos
Small but powerful and it's waterproof! Buy it!
User Ratings (

9

Votes)