I was on the lookout for a nice bedside alarm clock before I stumbled on the Oraimo SoundView on a random ad while browsing the internet.
I wasn't looking for a speaker but the Oraimo SoundView looked too nice as a clock to ignore. I placed an online order on Oraimo's website and I received the product after just over a week in Kisii. Would have arrived faster if I was in Nairobi I guess.
I've been using the Oraimo SoundView for a month now—here's a detailed honest review of the product mainly as a 5W speaker. This article isn't a promotional post.
What's In the Box?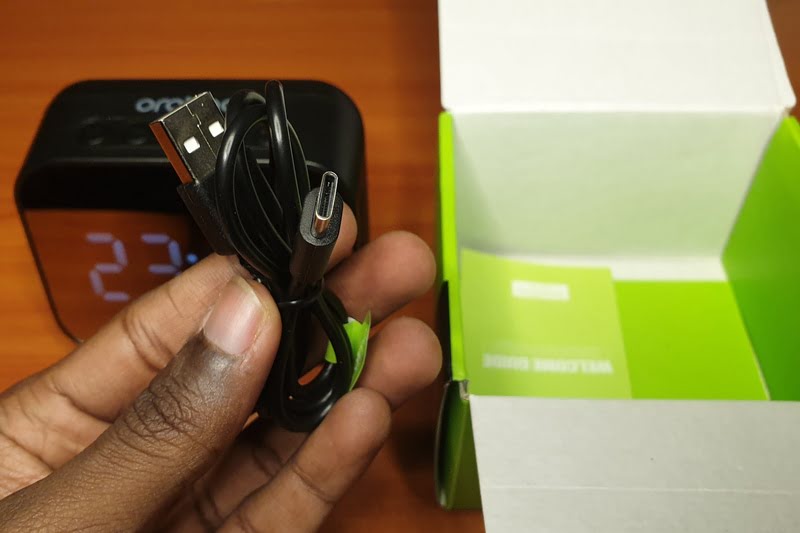 The Oraimo SoundView comes in a trademark Oraimo green box. Inside the box, you'll find three items; the speaker, a Type-C charging cable, and a manual to guide you on how to use the device.
There's no charging adapter in the box but you can use your smartphone charger without any problems. I'm yet to use the original Oraimo cable, I use an old cable that I found lying around in the house.
How's the Build Quality of the Oraimo SoundView?
At a glance, the Oraimo SoundView looks like some fancy bedside clock even though it's made of plastic all around. The front where the digital display lives is a plastic mirror but you can't tell it's not glass unless you take a closer look.
On top, the SoundView has 5 large and round control buttons and all its ports are on the right side. The back has two large holes at the button and a meshed finish at the center where the speaker is located. The speaker isn't waterproof but that's understandable given its price and the main use-case scenario.
Another shortcoming of the Oraimo SoundView is the absence of a 3.5mm jack input port. However, as a Bluetooth speaker, you'd be using it wirelessly most of the time anyway.
The standout design feature is the mirror at the front. Add the silver display characters and the Oraimo SoundView feels and looks like a premium product.
How Do You Control the Oraimo SoundView?
The SoundView comes with standard playback buttons; the volume up and down buttons are marked with the plus and minus symbols. The play/pause button is designated a circular symbol—it also doubles up as the on/off button when you long press it.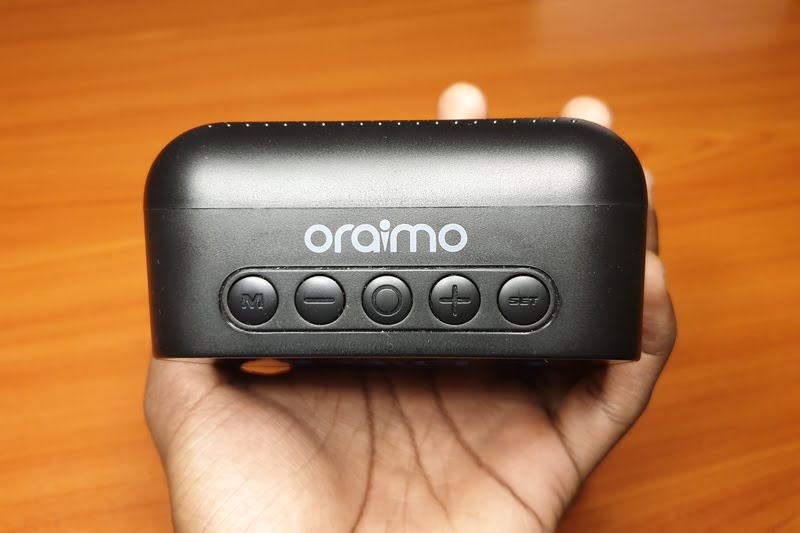 To skip to the next song or change and FM frequency, you'll need to hold the volume up button. Yes, the Oraimo SoundView also has an FM tuner plus the ability to play songs from an SD card or flash disk besides being a Bluetooth speaker.
There are two other buttons; one labeled M that lets you switch between different modes—Bluetooth, FM, and Clock modes. The other labeled SET is what you'll use to adjust clock time and set your alarms.
How Do You Pair the Oraimo SoundView?
Unlike more premium Bluetooth speakers, the Oraimo SoundView doesn't come with a dedicated smartphone app. You can only connect it to your device using the standard Bluetooth connection.
Pairing it up with your phone, tablet or computer is easy. Turn the SoundView on and it'll automatically be in Bluetooth mode. Alternatively, press the button marked M until it says Bluetooth Mode.
On the playback device go to Bluetooth settings and scan for available devices. You should see a device named oraimo SoundView. Select it and you can start playing your audio through the Oraimo SoundView speaker.
In the rare case that your device asks for a passcode, enter 0000. This happens if you're using an old device like myself that's stuck with a 13-year-old Nokia feature phone.
How Long Does Oraimo SoundView's Battery Last?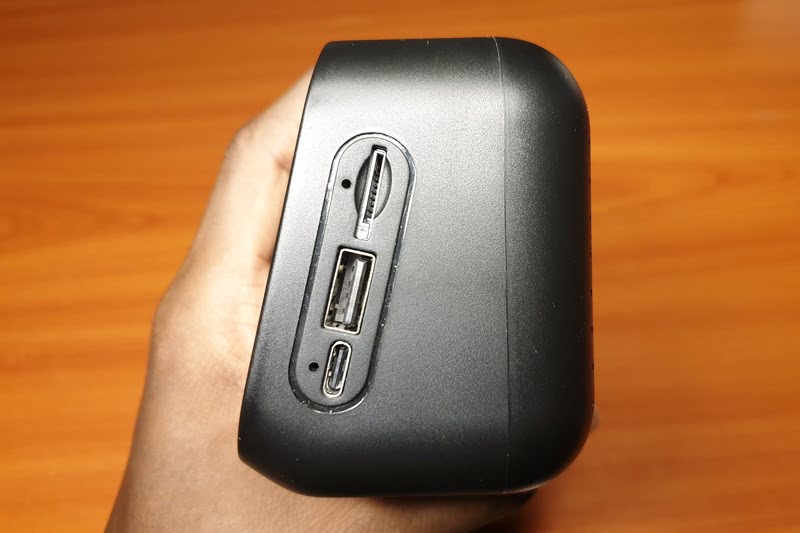 The Oraimo SoundView comes with a 1,200mAh battery and has a power output of 5W. With these specifications, the speaker doesn't disappoint like many at the same price point.
The longest I've been able to listen to it continuously on a single charge is 8 hours. Surprisingly it didn't run out of power because I was able to use it the following day for some time before it gave a battery low warning.
On Oraimo's product page, it says the battery will last for 2 hours which is way less than my personal experience—probably they're rating it with maximum volume. I was using it at the normal volume of 8—the highest level is 16 which is pretty loud.
In clock mode, I've been able to use it for three days without running out of charge. I can't tell exactly how long because I ended up playing some music on the third day.
When depleted, charging to 100 percent takes between an hour to one and a half hours. There's no indicator of how much charge you have left on the SoundView. However, most modern smartphones will show the battery level as a percentage in the Bluetooth settings menu after your pair the speaker.
On the other hand, you can use the speaker while charging and still be able to charge it to 100 per cent. When the charging LED indicator turns off, you'll know it's fully charged.
How Does the Oraimo SoundView Sound?
On a scale of 1-10, I'd give the Oraimo SoundView a 7.5 in terms of sound quality. The bass is just okay for such a small device and the overall sound does quite well. Clarity is almost perfect and it rarely cracks even at maximum volume.
You can check out my video below where I tested the sound quality and hear it for yourself.
Does the Oraimo SoundView Have a Mic?
The Oraimo SoundView has an inbuilt mic that you can use to make calls. The mic is one of the few negative features of this speaker. I tried to place a call on it and the receiver could barely hear me. Bringing the speaker closer to my face didn't make things any better.
If you want a speaker that you can make calls on, the Oraimo SoundView is definitely one of the good ones. But at this price point, asking for a quality mic would be pushing it too far.
The Oraimo SoundView as a Bedside Clock
As a bedside alarm clock, the Oraimo SoundView is perfect. On a scale of 1-10, I'd give it a solid 10! I bought my unit for this purpose and it happens to be one of the best gadget investments I've ever made.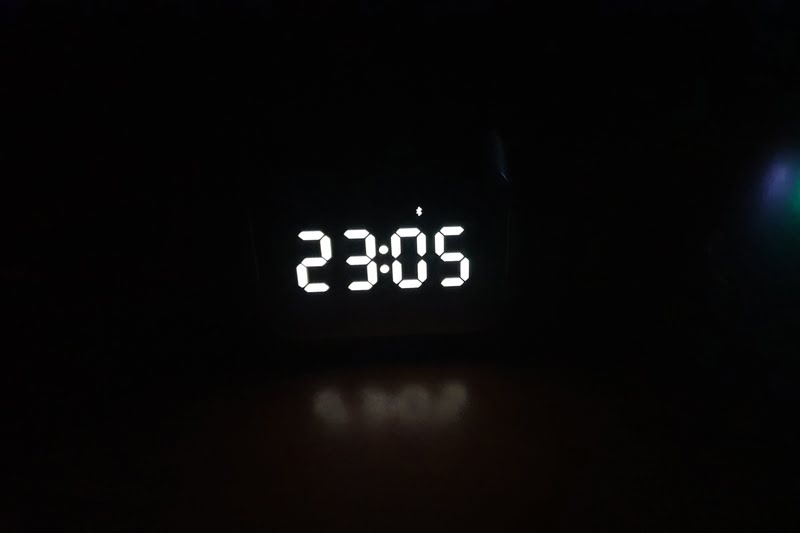 It glows in the dark so you won't have to fumble around for your phone and punish your eyes with the unbearable brightness. The alarm works well too but it may be a bit confusing setting up for the first time.
You can read our guide on how to set the Oraimo SoundView alarm if you haven't figured it out yet. If you prefer visuals, you can watch them on our YouTube video. These guides include instructions on how to set the time too.
How Much Does the Oraimo SoundView Portable Speaker Cost?
This gadget's strongest selling point is its price. If you buy it from Oraimo's official store, you'll get it for KES 1,150. In Nigeria, it's available on Oraimo e-shop and costs just NGN10,050. Using my promo codes below will get you a special discount as my reader:
5% Discount Code Nigeria: TE5LIILHQEYU
5% Discount Code Kenya: X0RMSJB1BPGW
Given all the pros we have seen in regard to the Oraimo SoundView above, this price makes it a major bargain. Remember that I've been using it for more than a month at the time of this writing.
Should You Buy the Oraimo SoundView?
If you're looking for a nice-looking bedside clock, you should definitely buy the Oraimo SoundView. If you don't own a Bluetooth speaker and would like an affordable one, the SoundView would be a great choice.
It has a premium look and would be a nice piece of decoration on your desk or bedside top. Its small compact size also makes it easy to carry around and the impressive battery life makes it worth every shilling you spend on it.
If you want an alternative quality speaker without the clock, check out the Oraimo Palm which sounds much better than the SoundView and is within the same price range.
What We Like
Affordable
Impressive battery in clock mode
Premium design
Small form factor
Clarity is almost perfect
Good bass without distortion
Acts as decor
What We Don't Like
Battery drains quickly at maximum volume.
Setting the clock/alarm is confusing at first
Not waterproof
No 3.5mm port
Verdict
I'd highly recommend purchasing this product—I was looking for a simple alarm clock but the Oraimo SoundView over-delivered as a Bluetooth speaker. Talk of killing two birds with one stone.
User Ratings (

19

Votes)