If you're like me, one of the apps you can't do without on your phone or PC is Spotify. In this post, I'll explain in detail some tricks and hacks to make your Spotify user experience much better than ever before.
We'll delve into three versions of the app – mobile, PC, and web player. Be sure to go through all the sections of the post so that you don't miss out on any cool Spotify trick.
#1. How to Use Spotify on PC Without Installing the App
I own a low-specced laptop and as a result, I always avoid installing apps that may bog it down. The PC version of the Spotify app is quite heavy if you have a computer like mine. You can help me get a new and better one.
In the next few lines, I'm going to show you how to spare your PC/laptop the trouble of having to run Spotify, and still get to enjoy your Spotify playlists or podcasts.
What we'll be using is the Spotify web player version that'll require no installation.
Instead of downloading Spotify on your PC—all you need to do is go to your preferred browser and visit open.spotify.com. I use Brave Browser—keep on reading to find out why.
Click on login and you'll be prompted to provide your email/username and your password.
Once you enter the correct credentials, you'll be presented with a nice-looking Spotify Player interface as you can see below with all the necessary tabs that you'd find on the app version.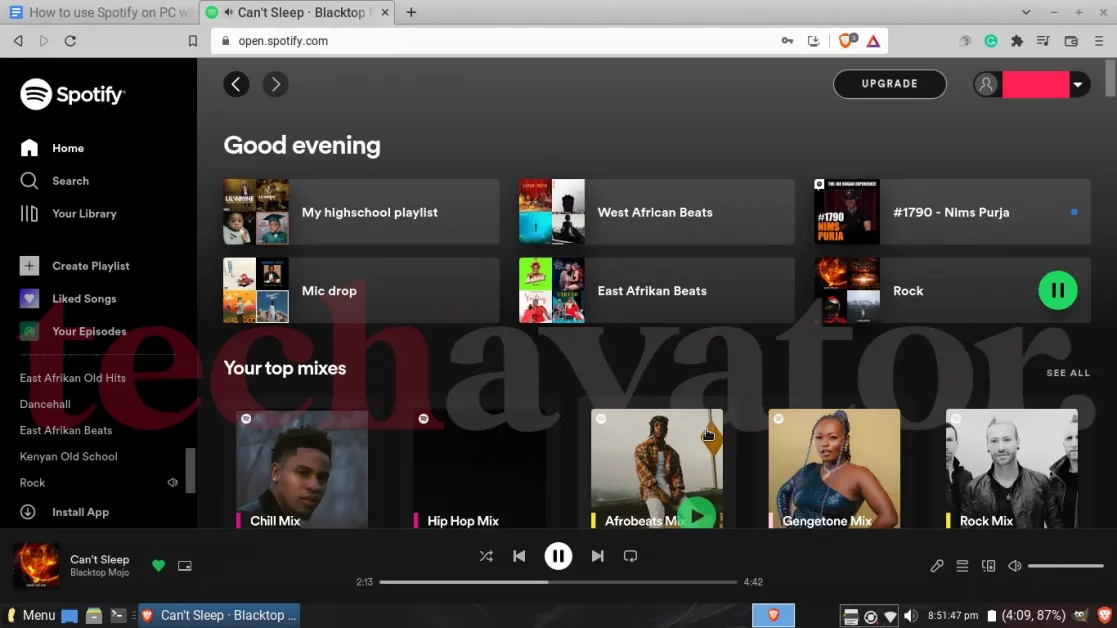 You can keep on working and enjoy your favorite music as long as you keep the Spotify Web Player tab open. After all, you'll most likely already be using your browser.
I use the web player all the time, and I have never encountered any challenges. The next trick explains why Brave Browser is my preferred browser.
#2. Remove Ads When Playing Spotify on PC
As much as you get unlimited skips when using Spotify on PC—the constant barrage of ads can be frustrating.
If you're unfortunate to be in a country where you have to fork out $10 every month for Spotify Premium (only $3 in my country), this trick is for you.
Don't worry, it doesn't involve anything illegal like installing a cracked version of Spotify.
You'll have to use Spotify Web Player if you want to get rid of ads on the free plan. Here's where Brave Browser comes in handy.
Brave Browser comes with inbuilt ad-blocking capabilities. It not only removes normal ads like Google Ads but also gets rid of Spotify ads and YouTube ads. Yes, no more waiting to skip those lengthy YouTube ads.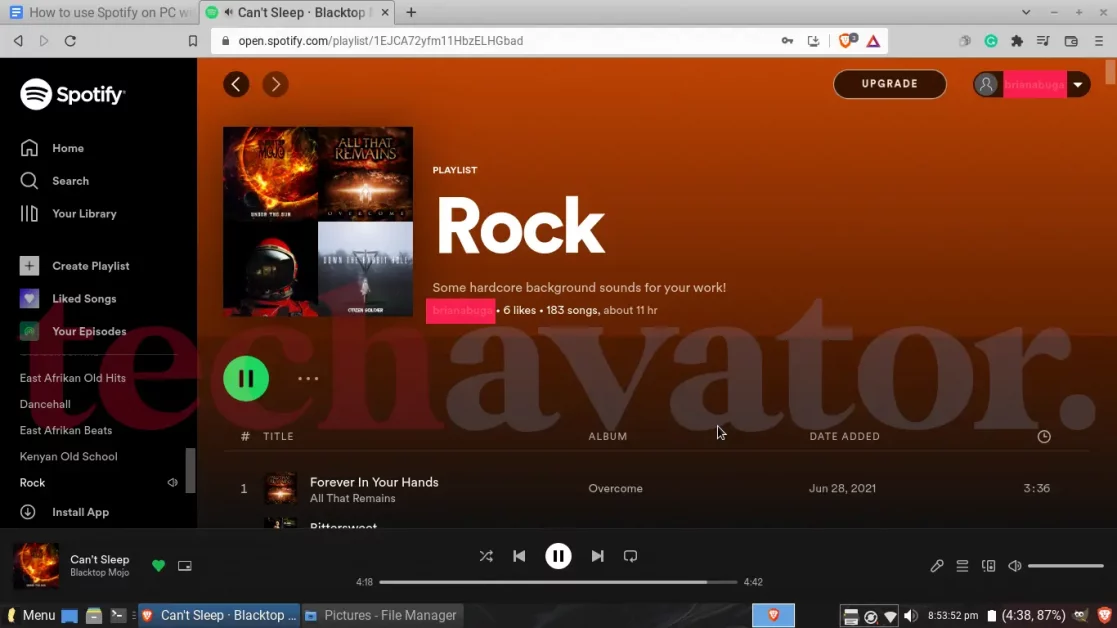 The feature comes enabled by default with the option of turning them on in the settings menu. Brave runs on the Chromium engine and if you're a Chrome user – transitioning won't be a problem because the two browsers are almost identical.
When you open up Spotify on Brave for the first time, it'll prompt you to install the Widevine extension.
Be sure to install it—Widevine is Google's digital rights management technology that is present on most other browsers including Chrome and Firefox by default. Once you enable it, you're set to enjoy Spotify on Brave Browser.
You can also install a mobile version on Android and iOS. You can sync between devices just like you do with Chrome.
You can download Brave here for all platforms.
#3. Enhance Your Spotify Playlists
On both PC and mobile, you can scroll down to the bottom of your playlist and add the given suggestions one by one.
Additionally, there's a new feature on Spotify mobile that'll let you populate your playlist with a bunch of songs that you may like with one click of a button. This is the trick I want us to focus on.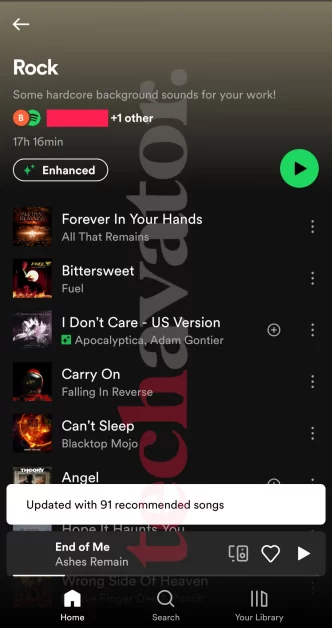 On your Spotify app, open the playlist you want to add new songs to.
Just above the playlist on your left, you'll see a button labeled Enhance.
Tap on Enhance and many new songs will be automatically recommended on your playlist.
You can now listen to a lengthier playlist without having to add songs manually.
If you don't like the suggestions, simply go back to the top and tap on Enhanced.
Your playlist will return to its original state.
If you like some of the suggested songs, simply click on the small (+) icon next to the song to add to your playlist permanently.
#4. Save on Mobile Data When Using Spotify on Your Phone
If you're on the Spotify free plan, listening to new playlists while on the move can eat into your mobile data quota.
For this reason, you'd want to minimize how much data Spotify consumes by as much as possible.
The first thing you should do to minimize how much data you use is to reduce the streaming quality for both audio and video.
Don't worry, you won't even notice the difference in quality especially when it comes to audio. For video podcasts, phone screens are too small to notice any significant drop in quality once you adjust the settings.
These are the settings you need to change once you get to the settings menu on the Spotify app;
Canvas – Turn it off
Cellular Streaming (Audio) – Set it to Normal
Download – Set it to Normal (Premium users only)
Cellular Streaming (Video) – Set it to Medium
Spotify also has a cool feature by default that'll help you save on data if you usually repeat your playlists. Cache memory usage.
When you listen to a song, it is saved on your phone's cache memory. When you listen to it again, it won't take up mobile data because Spotify will retrieve it from your cache memory.
However, the temporarily stored music may quickly rack up to 10 GB from my personal experience. Be sure to clear the cache from Spotify's settings menu every once in a while if you're tight on storage.
The other suggestion I'd like to make in regards to minimizing data consumption is to use Spotify Lite instead of the main Spotify mobile app.
Spotify Lite is a version meant for lower resource use—both data and mobile device capabilities. Despite being a simpler version of Spotify—it looks just as good and has all the features of its mainstream counterpart.
Spotify Lite is available on Android only—I'm not sure if there's a plan to release an iPhone version at the moment.
To see how Spotify Lite compares to Spotify, please go and read one of my older posts which gives a detailed comparison of data consumption among all other parameters.
#5. Tweaks to Make Listening on Spotify More Enjoyable
On the settings menu on whatever device you're using—make sure you take advantage of the following features;
Crossfade – Turn it up to 12 seconds and thank me later
Gapless – Turn it on
Automix – Turn it on for a seamless transition between songs and playlists
Normalize volume – Turn it on to set the same volume on all audio or podcasts
Trim silence – Turn it on if you want to skip pause when listening to podcasts
Mono Audio – Turn it on if you're listening on one ear or non-stereo speaker
#6. Sing-Along to Your Favorite Songs With Spotify Lyrics
If you want to sing along to songs on Spotify, Spotify comes with inbuilt synced lyrics. This feature is available on both mobile and PC.
It is rare to find an English song without lyrics so you don't have to rely on Googling them all the time.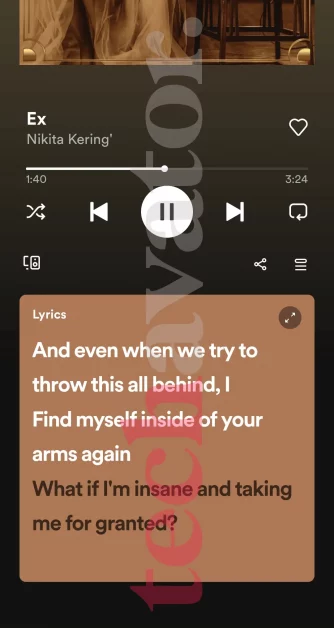 To utilize this feature on mobile, open the music player interface and swipe up on the word Lyrics which should be at the bottom left of your screen. It'll bring up the lyrics synced to the time of the currently playing song.
On PC, you'll click on the microphone icon on the bottom right near the volume toggle and the synced lyrics will cover most of your screen.
Wrapping Up
If you're unfamiliar with any of these tips be sure to try them out. My personal favorite is #6—despite having a horrible singing voice.
Please let me know in the comments section if there's any cool feature I may have missed and I'll add it ASAP.