Home automation refers to a technology that interconnects the different electrical systems in homes to offer convenient control over them.
Automation not only eliminates manual control but also enhances the security and comfort of a home. With seamless integration, home automation reduces the chances of human error.
Where It All Begun: The History of Home Automation
Before the advent of home automation, individuals such as Ray Bradbury, a renowned science fiction writer in the 20th century—pictured a future where homes ran themselves and interacted with their owners.
Science fiction stories also gave an insight into what home automation would mean.
Ideas then started developing and stayed in the minds of experts for decades. It is only in the recent past that some of the home automation ideas came to life.
It all started with home appliances in the early 20th century such as refrigerators, irons, washing machines, toasters, etc.
Gerontechnology, a combination between gerontology and technology, came at the start of the 90s to simplify the lives of senior citizens.
This preceded smart homes which came into existence at the beginning of the millennium. As time went on, smart homes became more and more affordable.
Various gadgets, home networking, and other domestic technologies began appearing on shelves.
Fast forward to today's smart homes, innovations have made smart homes smarter. The focus is currently on environmental friendliness and security.
Smart homes are more sustainable and are constantly improving on this front.
The technology available at the moment can even alert the homeowner of intruders or anomalies while they are away.
The future holds further improvements to what is available at the moment even to levels that we see in some movies.
Current Trends in Home Automation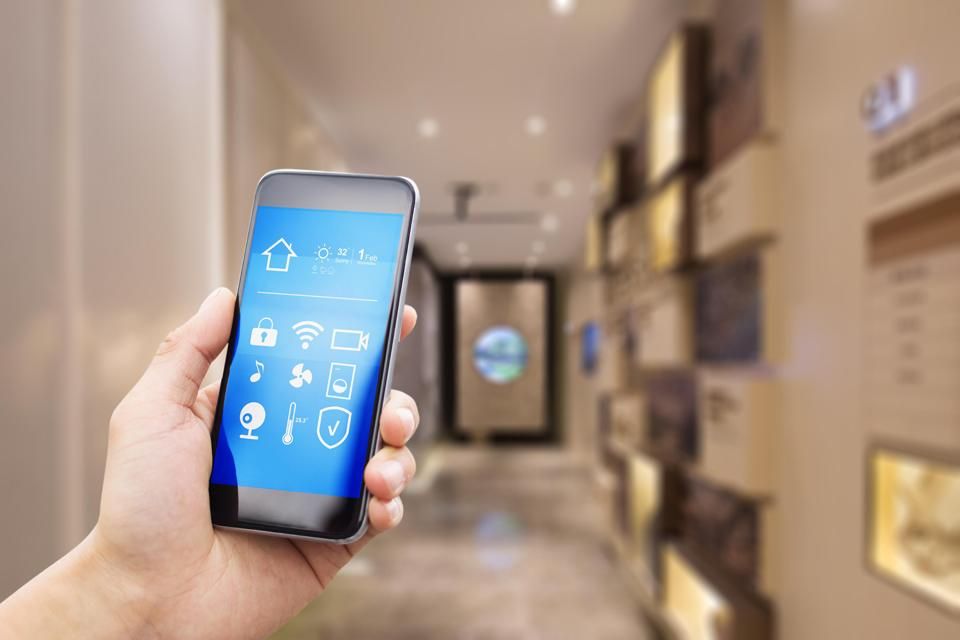 The home automation trend is catching on around the world. Looking at how many homes are smart, the numbers are impressive.
The smart home market is projected to bring in a revenue of $115.70 billion in 2022. However, home automation still is not a norm for most homeowners.
This is because the industry has been experiencing slow growth over the past few decades.
Despite this, considering the convenience that smart devices and their respective apps bring to people's everyday life, it is only a matter of time before the trend catches on for most homeowners.
Security
Currently, technology facilitates the installation of user-friendly smart home security systems, eliminating the need for professional security solutions to some extent.
Security cameras can now be operated and monitored over the internet by basically anyone without special skills.
The cameras may even come with facial recognition features and set off alarms based on this feature.
Sustainability
With sustainability being a major concern, smart home devices and appliances are made to meet certain standards.
Reduced energy consumption and green living are dictating the operation of these devices.
HVAC systems can now be controlled using internet-enabled devices, sometimes automatically, thus saving lots of energy.
Smart bulbs regulate the amount of light based on need and can be turned on or off automatically.
Perfect examples of these include the Nest Learning Thermostat and Philips Hue Bulbs respectively.
These two can be controlled through a smartphone application and independently adjust conditions without a homeowner touching any of them.
Safety
Smart home devices are also taking some safety concerns such as carbon monoxide monitoring and fire protection to the next level.
A good example is Nest Protect, which connects to internet-enabled devices such as tablets and phones.
As soon as it detects any concerns pertaining to fire, temperature, or carbon monoxide, it promptly notifies the homeowner to take the necessary actions to deal with the issue.
Entertainment
Automated living does not just stop at cooking, washing, lighting, security, and safety, it can also be applied to child care and entertainment.
Smart products, which can help parents monitor their children's internet habits and take appropriate action do exist.
Entertainment is also a necessity for most homeowners. Devices such as the Google Home and Amazon Echo bring this into the home automation ecosystem.
These devices additionally integrate with others within a home to facilitate commands and other interactions by the owners.
The Perks of Home Automation
With internet-enabled security devices, a homeowner gets round-the-clock surveillance of his or her home at no extra cost. Even better it is the homeowner who is looking after their own home even when they are far away.
Smart appliances and devices play a crucial role in improving energy efficiency. It is now possible for a homeowner to monitor and adjust or automate an HVAC system from their handheld devices. Doing this significantly reduces energy consumption resulting in lower energy costs.
Home automation has rendered control over lighting and entertainment easier and more efficient. A homeowner can control volume, brightness, scheduling turn-off times, and more without having to interact with the systems themselves and turn everything off and on with a touch of a button.
Homeowners can now quickly toggle their alarm systems on and off in a second and get alerts from alarms even while they are away from homes. With this capability, a homeowner can get out of their home without the worry of coming back to damaged or stolen property.
What the Future Holds in Regard to Home Automation
Trends in home automation are constantly changing as the sector grows each day.
What's missing in smart homes currently will definitely be available with time as the sector integrates more and more technology.
For the already existing smart home appliances, different features are receiving daily updates. These improvements will raise the level of interaction between homeowners and their homes.
As things stand, many television fantasies concerning home automation are also in contention to become reality.