So you've started earning a few dollars on Adsense and you're wondering what the payment process looks likes when you hit the $100 threshold. How will the money get to you?
In this post, I'll give you a look into how you'll receive your first payment and the timelines and guidelines you need to take note of.
I'll work with the assumption that you've already set up Google Adsense on your site and have started earning at least a few dollars.
Google AdSense Address Verification Process
Once your earnings hit $10 dollars for the first time, Google will email you asking you to verify your physical address.
This is the address you'll have provided on your Adsense profile. Make sure it's an address that you have access to.
Here's what the email looks like: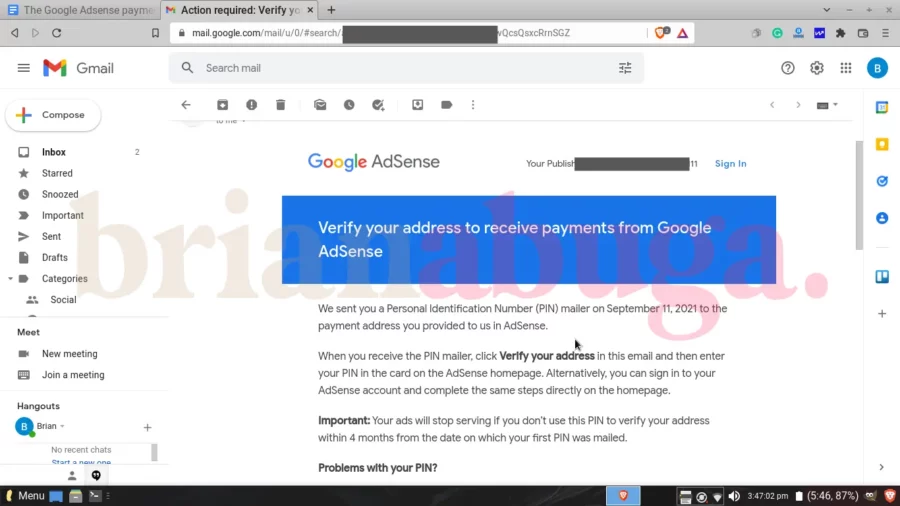 As you can read in my email above, failure to enter this in your Adsense account after a given period will automatically disable the ads on your site.
It took two weeks to receive the PIN mailed by Google to my physical address.
The instructions by Google are quite clear and straightforward—if you follow them you'll finish everything in a matter of seconds after you receive your PIN.
The document with the PIN looks something like the image below.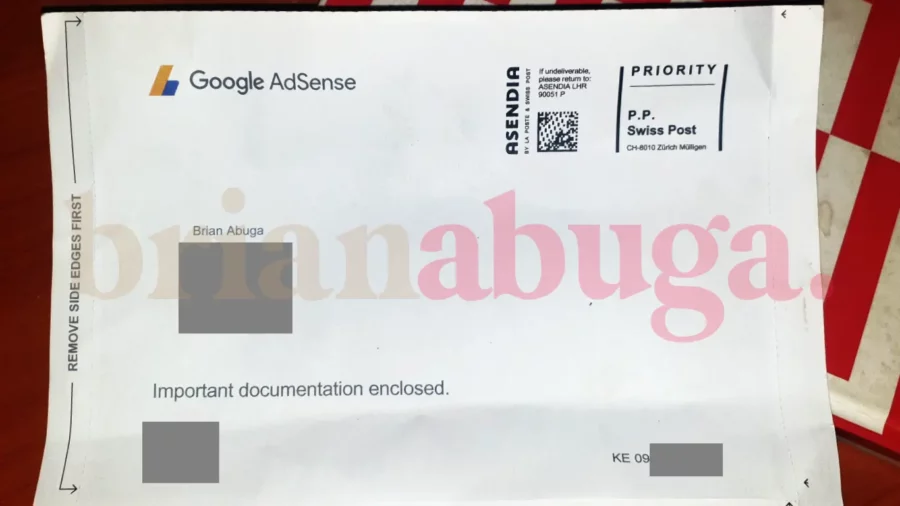 Once you tear up the received document as instructed—go back to the email I showed you above and you should find a large Verify Your Address button at the very bottom of the email content.
Once your address is verified you can now choose your preferred payment option. In my case, I decided to go for the wire transfer option.
You can follow the steps outlined by Google to set up a wire transfer as your preferred payment method.
Again, the instructions by Google support are easy to follow and none of the Adsense processes should pose a challenge.
How to Transfer Money From Google AdSense to Your Bank Account
First, you'll have to hit the set threshold in earnings to have the money sent to you. So what happens when you hit the Adsense payment threshold?
The answer to this question is obvious—you get paid. But you might be wondering what the entire Adsense payment process entails if you're getting paid for the first time.
I'll show you exactly what happens from my experience. First off, go to the Payments info section on your Adsense dashboard.
You'll be presented with a bar showing how far you're from reaching your payment threshold.
The default amount is 100 dollars or its equivalent in the currency you're using. You can set this to a higher amount if you want.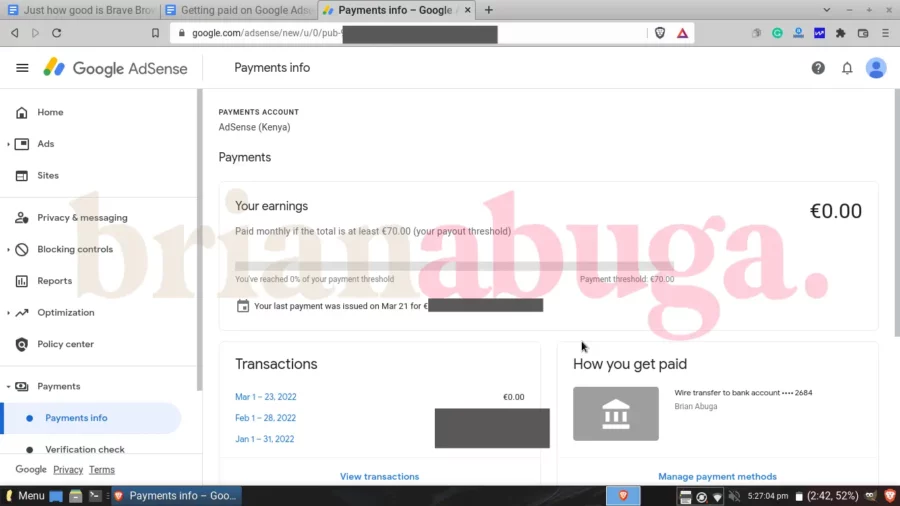 As soon as you hit the threshold at the end of a given month, the money will be automatically wired to your bank account.
It should take up to five days to reach your account as stated by Google. For me, it usually takes 24 hours.
Please note that payment issued for a given month is sent out on the 21st of the following month.
For instance, if your Adsense earnings exceed the given threshold by February 28th—the balance on your account will reset to zero and your earnings will be sent out to you on March 21st.
As such, you should receive your payment by March 26th. Net earnings in the said month of March will be aggregated on the 31st and also get paid out the following month on April 21st.
Once the earnings are wired to you go to Transactions on the Payments info page to access a receipt.
Earnings are usually aggregated at the end of the month. For this reason, your balance will always read zero after payment unless you haven't met the threshold.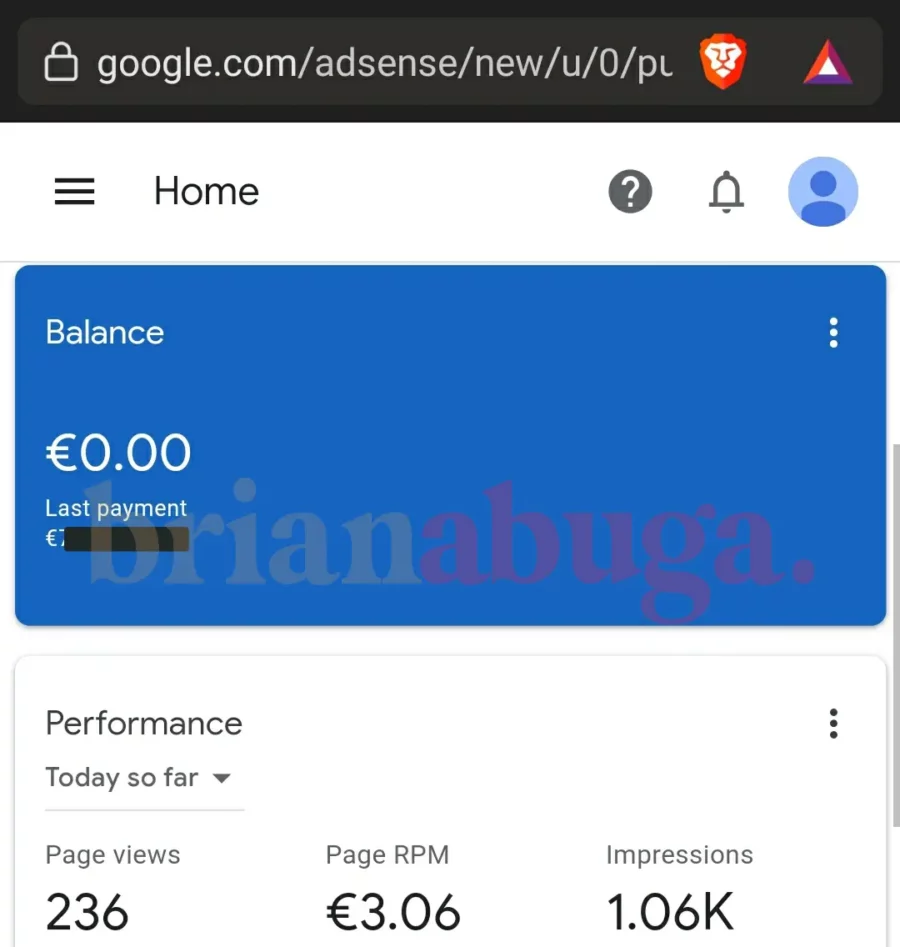 In case the payment doesn't reflect in your account within the period stated by Google, contact your bank because wire transfers can experience unexpected delays sometimes.
Remember, only working days count and not weekends. If your payout is sent on a Friday you may receive it on Thursday the following week if it takes five working days.
How to Make Google AdSense Work Better
Now that you've got a taste of real money from Adsense—the next step besides creating more quality content on your blog is ensuring you maximize your earnings.
The easiest way to achieve this is by enabling the auto ads feature which involves simply toggling a button on as you can see below.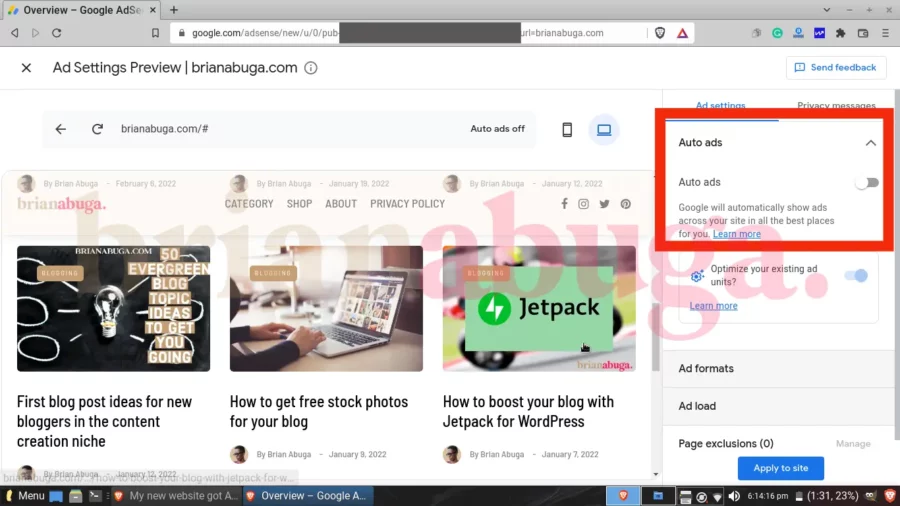 However, I wouldn't recommend using this feature because it'll ruin your site's user experience and appearance since you have no control over where ads are placed.
In my previous post about Adsense, I detailed how I set up my ads manually to ensure my readers aren't disrupted by ads.
The user experience should be a priority over earnings because it will help in growing your site.
It's Straight Forward
The Adsense payment process is straightforward with no complications. If you're yet to receive your first payout or waiting to reach the payment threshold—everything that I've talked about is what you should expect.
I hope you grow your traffic and revenue in time. While you're at it, remember that display ads like those offered by Adsense aren't the only way of earning.
I'm personally trying to move away from Adsense and focus on other monetization methods. The plan is to get back to display ads if I ever meet the requirements of better-paying ad networks like Mediavine on this blog.