Traveling and being outdoors never affect my blog writing schedule. I always write my blog posts on my phone whenever I'm out of the house because I hate the idea of carrying my laptop around.
The WordPress mobile app (available on Android and iPhone) makes managing your blog easy while on the go. It takes some getting used to, but once you get the hang of it you can perform up to 90 percent of the things you can do on a computer.
What Can You Do With the WordPress App?
I use my phone more than I use my computer for blogging. I don't have a problem with it because when I started blogging, I didn't own a PC so I had to use my phone at the time. For this reason, I can easily draft a 1000-word blog post when I'm out and about or on a bus.
If you've never blogged from a phone before, you can start doing it today. First, you'll need to add your existing WordPress blog to the mobile app. If you're a WordPress.com user, you'll automatically log into the app with your existing credentials.
If you're a self-hosted WordPress.org user, you'll have to install Jetpack, which is a plugin meant to connect self-hosted blogs to WordPress.com. Once you have Jetpack activated, you can use your Jetpack credentials to connect your blog(s) to the WordPress mobile app.
Once everything is set up, you can start using the WordPress app to do the following.
1. View Your Blog's Stats
The first feature you'll see upon opening the app is your stats—Tap the Stats option on the Quick Links menu and you'll have access to a dashboard showing you the number of page views, visitors, likes, and comments that you have on your blog.
You can arrange these stats according to a period starting from days up to years. The Stats dashboard also breaks down the total number of views on each of your posts and pages.
Below the posts and page numbers, the mobile app shows you referrers to your site (search engines, and social media platforms)—an important stat to know how your audience is engaging with your content across different platforms.
Additional stats include the views for each existing author, clicks on links, and the number of page views according to country. If you have videos on your blog, you can also see the number of views.
2. Writing and Editing Blog Posts and Pages
The WordPress app comes with a feature-packed block editor. The editor allows you to do almost everything that you can on the browser editor. You can add photos, videos, and links to your posts.
All text formatting options are available and the only missing thing that always has me going back to my browser is the ability to add Custom HTML blocks—but I believe this feature will be added soon.
In the post settings section of editing, you can schedule a post, set a password, add categories/tags, upload a featured image, edit the URL slug, and type in an excerpt. Once you've done all these to your satisfaction, you can hit the publish button and your blog post or page will be live.
3. Uploading and Managing Media Files
If you have images or videos on your phone that you'd like to use on your blog, you can go to the Media section on the WordPress Publish menu, and click on the + button to quickly upload the files to your site.
You can add a description, alt text, and captions to each of your files as easily as you would on your PC. Also, if for some reason you need to download a photo from your media library, you can do so by clicking on the cloud icon on top of the file you want and it'll appear in your phone's downloads folder.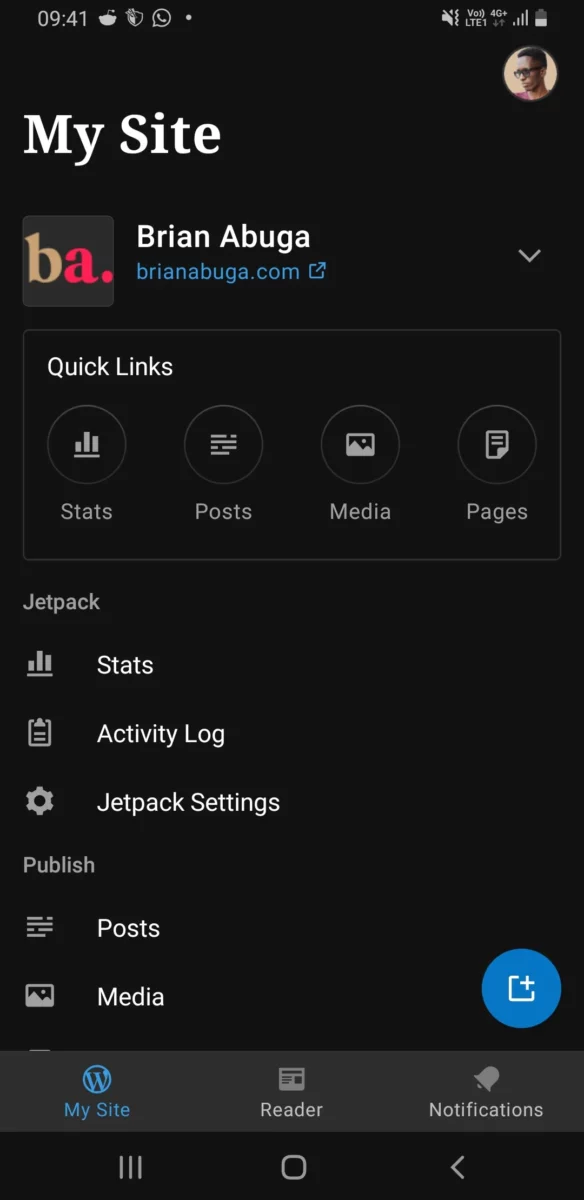 4. Checking Recent Activity on Your Site
If you monitor your site frequently, tapping on the Activity Log option on the Jetpack menu will show you the most recent actions on your sites, by you and other managers.
Some of the activities you can keep track of include authorized/unauthorized login attempts, post/page updates, edits, deletions, etc.
5. Comment Management
Clicking on the Comments option under the Publish menu will lead you to a dashboard where you can keep track of all the comments on your blog posts.
The comments are categorized as Pending, Unreplied, Approved, Spam, and Trashed. You can also receive new comment notifications directly on the WordPress app and take any action you desire including replying to them.
6. Toggle Jetpack Settings
Jetpack is a must-have plugin for any WordPress user. If you're unfamiliar with Jetpack, you're missing out on a nifty tool. Check out my previous post on what Jetpack is and how to use it to boost your blog's performance.
If you're already using Jetpack you can easily manage its settings from your phone with the WordPress app. Tap on Jetpack Settings to manage your site's security. To toggle Site Accelerator settings, you'll have to scroll down to Site Settings.
7. Download and Switch WordPress Themes
The WordPress app also features a Look and Feel menu where you can manage your themes. You can use the search bar at the top of this section to search for themes on the WordPress repository as well as the ones you have installed.
You can quickly preview the themes before activating the one you want to use. I'd recommend using a PC to customize the theme you want to use, but if you're an experienced WordPress user, you can easily figure things out by doing the same on the mobile app.
8. User Management
If you have a team working on your site, you can manage them by going to the Configuration menu and tapping on People. Here, you can change roles and also add new users by sending them an email invitation.
9. Plugin Management
Still under the Configuration menu, tapping on Plugins will let you search for, install, activate, deactivate, or delete WordPress plugins.
I usually use this feature when troubleshooting my sites by trying to find conflicting plugins. Activating and deactivating plugins is much faster on the app than on a PC.
10. Reading Other Blogs
If you love binging on other blogs, the Reader tab at the bottom of the WordPress app will be heaven for you.
In this section, you'll see all the WordPress blogs that you follow in your WordPress account. You can also, select your favorite categories and you'll get relevant recommendations on the Discover feed.
Work on the Move
While on the move, you don't have to stress out by carrying around a clunky laptop to keep track of your blog(s). It takes some getting used to, but you can easily do 90 percent of the work on your blog with just a phone.
I use the WordPress app all the time. Heck! I've even written the entirety of this post on my phone.
When you're on the bus, a plane, or the subway, get some work done instead of staring into the bottomless abyss of social media! Go to the App Store or Google Play Store today and download the WordPress app. You'll thank me later!