Many new bloggers and website owners have found it a bit challenging to get their sites approved to monetize with Adsense.
Some of these sites have a significant amount of content and are even more than six months old. However, I can confirm to you that you can get approval even for a brand new site (not a day-old kind of brand new but a week or two weeks old).
This site that you're on now is just over two weeks old and just a few hours ago I got an email from Google confirming that my Adsense application had been accepted and I can start serving ads.
Can you guess how long it took for me to get the Adsense approval message? Around 14 hours after application! I'm going to share with you exactly what number of posts I had while applying and other parameters that I think helped with such prompt approval.
Here's a screenshot of the acceptance email I just received: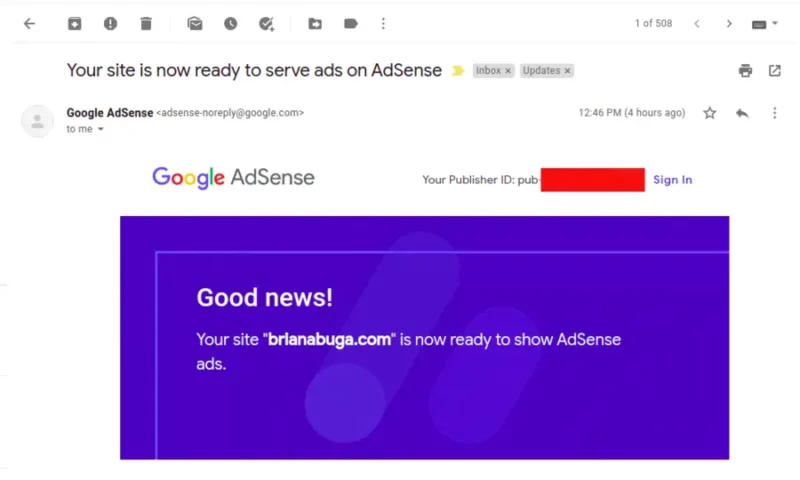 How Many Blog Posts Did I Have While Applying for AdSense?
I'll get straight to the point. I had six posts while applying for Adsense. I've read from other sources that claim ten or more posts but I bet that's from their own experiences.
In my case, six posts were enough. With this information, we can conclude that there's no definitive number of posts needed to get accepted into Adsense.
I guess it all boils down to the uniqueness and quality of the content.
How Long Were My Posts When I Got Approved for AdSense?
Of the six posts, the shortest is just over 1200 words long and the longest is close to 3000 words long. Most are 2000ish words long.
I'm not in a position to say what length your posts should be because it varies from niche to niche. However, the longer a post is, the better it'll help the reader if done diligently. I guess that was the case with my few posts.
How Old Was My Site When I Got Accepted Into AdSense?
I started the blog (brianabuga.com) on October 17, 2021. Adsense approval happened on November 12, 2021, the same day that I made my application. That's just over three weeks old.
Again, I've seen other sources claim that a site needs to be at least 3 or 6 months old But as you can see mine was not even a month old. I registered my domain name on October 14, 2021.
My guess is the period these people are talking about is the age of a domain or YouTube channel before applying for the Adsense program for the first time. I already have Adsense running on an older blog (this one) and a YouTube channel.
What Was My Site's Structure Before Applying for Google AdSense?
As you can see, this site is quite easy to navigate through on both mobile and PC. The categories are laid out, I have a privacy policy page and a detailed about me page complete with contact information.
My header is clean with a clear easily identifiable logo and the font throughout the site is just the right size and legible.
I'm confident to say that you can borrow my layout if you want to increase the chances of Adsense approval for your new site.
The theme I use is called SmartMag which you can get at an affordable price from Themeforest. It comes with over a dozen demos that'll easily fit whatever niche you're pursuing on your blog. Feel free to browse the site for thousands of other amazing themes.
How to Add Google AdSense Code to Your Site Automatically
Once your account is approved to start serving ads on your site, Google will ask you to copy and paste a given code into your site's theme.
Don't worry if you're not comfortable with tampering with code—you can achieve this by simply installing a WordPress plugin called Google Site Kit.
It's an official plugin by Google and all you have to do is activate it and link it to the associated Adsense account.
The plugin will insert the necessary code to start serving ads on your site within seconds and you should start seeing ads in a few minutes or hours if you turn on the auto ads feature from the Adsense dashboard.
Google Site Kit also facilitates Google Analytics and Google Search Console integration. As a result, it is the perfect replacement for MonsterInsights but with a little bit more. Yes… you don't have to pay for MonsterInsights Pro.
Ensure you follow the instructions that you'll receive on your Adsense dashboard on how to add an ads.txt file to your site. It's a requirement to get the best out of Adsense ads on your blog or site.
Using Custom HTML to Serve AdSense Ads
I don't like the lack of flexibility that comes with the Adsense auto ads feature. It can easily ruin user experience—something that I always put before revenue potential.
Here's where the Custom HTML blocks feature on the WordPress editor comes in handy. I'll copy and paste specific ad size code from Adsense and paste it into a Custom HTML block in any position where I want ads within my posts.
The extra bucks aren't worth it to me if it means disruptions for awesome readers like you when you're reading my blog posts.
If you want to take control of your ads and retain your readers, follow these steps:
Open a new block between paragraphs where you want to place an ad.
Choose Custom HTML from the block formatting options.
Copy and paste the desired code from the Google Adsense dashboard.
Put the tag <center> at the beginning of the code and </center> at the end to ensure your ad is centered within your post.
You can also go to widgets and add the Adsense code to your sidebar if you want to serve your ads there for PC users.
Once you hit publish on your post, page, or widget, ads will start showing in the designated areas.
However, this approach could prove to be inconvenient—I ditched it and I'm now using the free Advanced Ads WordPress plugin that'll give you lots of flexibility and ad customization options. Furthermore, it has inbuilt Google Adsense support. It'll save you lots of time.
How Much Can a New Blog Earn From AdSense?
Frankly, I don't know. My focus is to get my traffic as high as possible over time and hopefully, one day qualify for premium ad networks like Mediavine or Adthrive.
It's a tall order but not entirely impossible if I maintain quality, relevant, and consistent content for my esteemed readers.
What Next After Getting AdSense Approval?
Keep my head up, resist the temptation of checking my analytics impulsively, and churn out as much great content as my brain and time can allow.
Small milestones like getting approved by Adsense are what I always use as momentum builders in my blogging career.
I'm certain this small victory will keep my energy levels up for the next few days. I'll take advantage of this situation and push out some content and even have a few scheduled for future publishing.