The Oraimo Sound Go Boom is the largest portable speaker from the brand. It looks great on the outside but does it sound as good as it looks?
In this review, I'll cover the speaker's build quality, sound quality, and battery life to help you decide whether it's worth your money. You can also check the video above to hear how the Oraimo Boom sounds.
What's In the Box?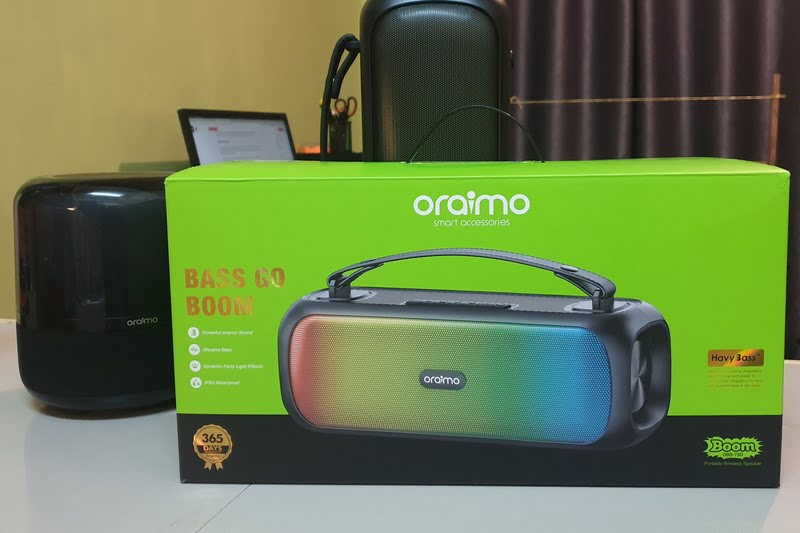 The Oraimo Boom comes in a large high-quality green box you wouldn't want to throw away. I usually store the speaker in this box whenever I'm not using and it still looks good. In the box, you'll find a user manual, a USB-C cable, and an aux cable cable.
The speaker is available in just one color (black). Unless you can customize the color yourself, you'll have to stick with the black which still looks great in my my opinion.
Oraimo Boom Build Quality
The Oraimo Boom is almost all plastic apart from the front which features a metallic mesh. The plastic is high quality and it takes nothing away from the durability or feel of this large portable speaker.
The control buttons and the port cover are made of silicone. At the bottom, there are two stands with a soft material to protect the plastic from scratching or sliding.
On top, there's a faux leather removable strap to help you carry the speaker around. This is one of my favorite features of the Oraimo Boom because the speaker is bulky and would be tricky to carry around without the strap. You can create a custom strap if you want to.
The Oraimo Boom is rectangular which means you can lay it out in either a horizontal or vertical orientation. It sounds great in both orientations even though one of the bass radiators gets covered when placed on a surface vertically.
How Does the Oraimo Sound Go Boom Sound?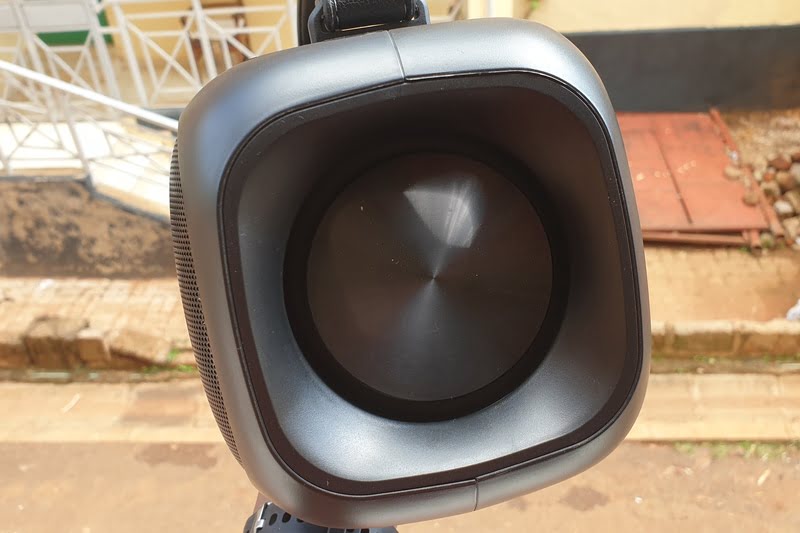 Before I got this speaker, I was using the Oraimo Rover as my main house speaker since I still can't afford a home theater system. The Oraimo Boom came as a big upgrade in my case and it sounds great as a home entertainment system.
Of course, it's not as powerful as a complete sound system with a subwoofer but for a 30W speaker (2*15W speakers), it sounds great and anyone can enjoy the sound quality and bass from the Oraimo Boom.
The volume is very loud and I rarely use more than half the volume indoors. The bass is punchy and you can easily confuse this speaker for a midrange soundbar with a subwoofer system. If you pair two of them up, they sound even better.
I'm planning on getting a second one to boost my listening experience.
If you're looking for a portable outdoor music system, this speaker will be a great option. You can easily pack it up and hold a small party outside. If one is not enough for you, you can get a second one as it supports TWS pairing for a stereo experience.
How Do You Pair the Oraimo Boom and Available Ports?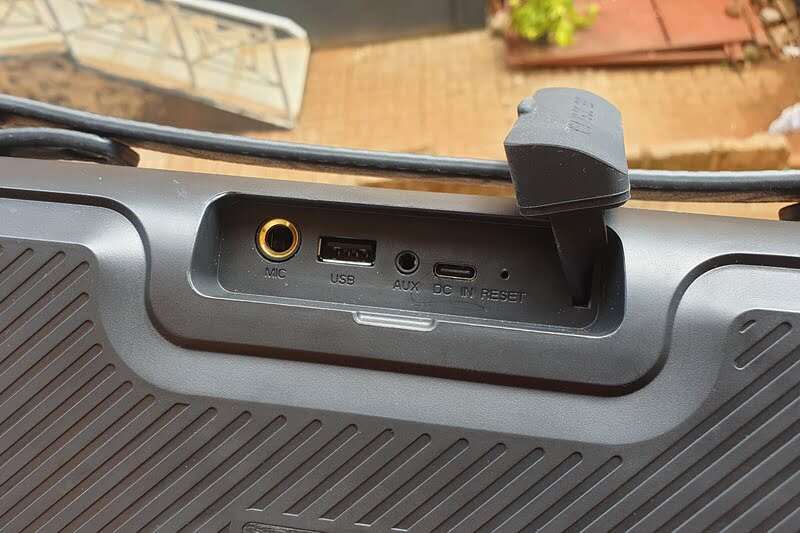 The Oraimo Boom comes with Bluetooth 5.1 which makes pairing a breeze. Simply turn it on and search for it on your device as you would any other Bluetooth accessory.
In the ports department, the Oraimo Boom comes with four ports—a USB-C charging port, a USB flash drive port, an AUX input, and a microphone port.
The microphone port comes in handy if you're into karaoke or want to use this speaker as a public announcement system.
Unfortunately, there's no memory card slot on this device—you'd have to purchase a memory card adapter and use the flash disk port instead.
How Do You Control the Oraimo Boom Speaker?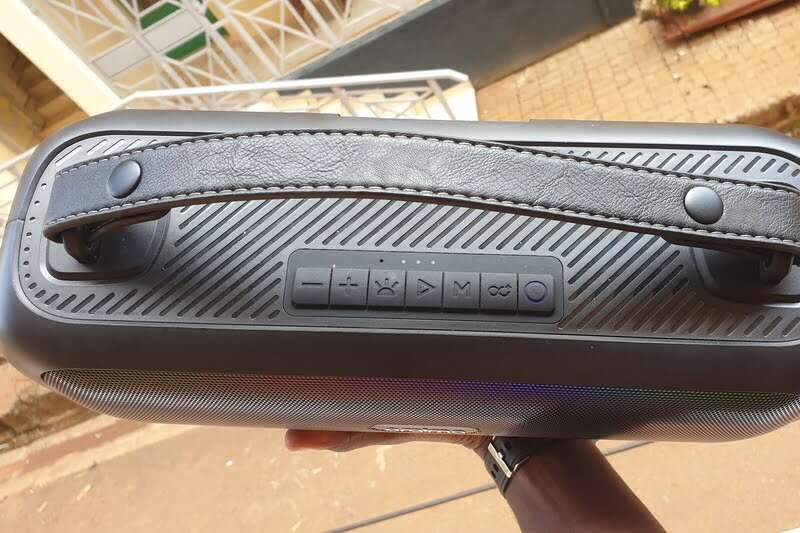 The Oraimo Boom comes with 7 control buttons. They are from right to left: the power button, TWS pairing button, mode button, play/pause button, RGB lighting button, volume up, and volume down.
These buttons work as described above. There's an additional button next to the ports at the back—the reset button when you want to clear all the settings and connected devices and start using the speaker as if it's new.
Next to the control buttons, there's a mic for making calls and an LED battery indicator to show you how much battery you have left.
Pressing the Mode button will let you switch between FM radio and Bluetooth mode. To use AUX, a mic, or a flash drive, simply insert one of these accessories and the Oraimo Boom will pick them up automatically.
In FM mode, the volume up and down buttons will double up as seeking buttons by long-pressing them. The play button will scan for channels if you long-press it.
Note: The Oraimo Boom isn't compatible with the Oraimo Sound App.
You Can Make Calls on the Oraimo Boom
The Oraimo Boom comes with an inbuilt mic that helps if you want to receive phone calls when connected to your phone via Bluetooth. The call quality is not the best, especially on the other person's end but if you're close enough to the speaker, you can communicate without any issues.
The Oraimo Boom Battery Is Not the Best But Good Enough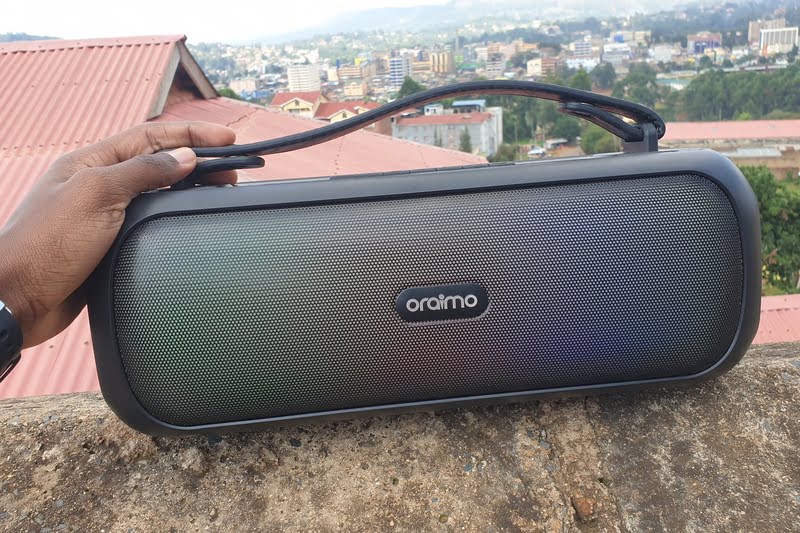 The Oraimo Boom comes with a 3600mAh battery which I think is too small for such a large speaker. However, it serves its purpose but you'll have to be keen on the battery if you intend to have long listening sessions.
I tested the Oraimo Boom in Bluetooth mode at maximum volume in two scenarios—with the RGB lights off and with the lights on.
With the lights off and max volume, I was able to get six and a half hours. With the RGB lights turned on at max volume, the Oraimo Boom lasted for just over five hours.
These numbers aren't impressive but I can say they are just good enough if you use medium volume. The Oraimo Boom is quite loud meaning 50 percent volume should be more than enough in most indoor settings.
Is the Oraimo Sound Go Boom Waterproof?
The Oraimo Boom comes with an IPX5 waterproof rating. This rating means the speaker isn't completely waterproof but can withstand low-pressure water jets from all directions. However, it won't survive dust.
My advice is to completely avoid exposing this speaker to water. Why do I say this? I saw a fellow YouTuber try exposing the speaker to water and it fried the RGB lights and eventually killed the speaker. He had to repair it. You can watch the video below:
Oraimo Boom Speaker Specifications
Dimensions—360x132x133mm
Bluetooth version—5.1
Distance—10m
Frequency response: 85Hz-16KHz
Audio output—30W(15Wx2)
Waterproof rating—IPX5
Battery capacity—3600mAh
Charging port—Type-C
Should You Buy the Oraimo Boom Speaker?
Ever since I got the Oraimo Boom, it has been my main speaker for entertainment purposes and listening to podcasts. It does a good job and sounds as good as any decent subwoofer.
The volume is loud and crisp and the FM radio has great reception. I recommend buying this especially if you're on a tight budget.
I use it alongside my other Oraimo speakers—the Oraimo SoundFlow, Oraimo Rover, Oraimo Wrap, and the Oraimo Palm.
Buy the Oraimo Boom from Oraimo Kenya (KES7,700)and Oraimo Nigeria (NGN62,500) or use the following discount codes to get it cheaper on checkout from the Oraimo e-shop:
5% Discount Code Kenya: X0RMSJB1BPGW
5% Discount Code Nigeria: TE5LIILHQEYU
Get this speaker if you don't have a reliable sound system in your home or you need a quality portable speaker for outdoor use.
Pros
Powerful bass
Loud and clear
RGB lighting modes
Portable
Phone calls
Dedicated mic input
Cons
No memory card slot
Dodgy battery life
User Ratings (

5

Votes)