In this guide, we'll look at how to withdraw your funds straight to your Safaricom M-PESA account and share some helpful information to help you get started.
Also, we'll walk you through the procedure for signing up for a Skrill account, verifying your account, and adding your M-PESA number to your Skrill wallet.
How to Add Your M-PESA Account to Skrill Wallet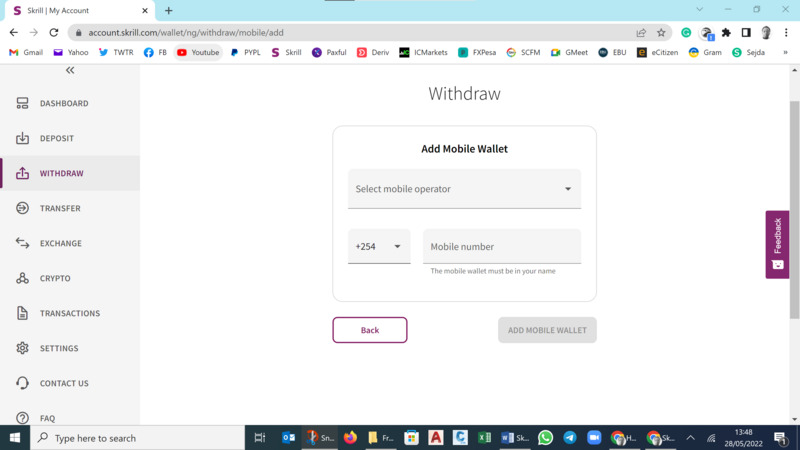 Here's how to link your M-PESA account with your Skrill Wallet:
Log in to your Skrill account.
Click the Withdraw button.
Select the Mobile Wallet.
Input your correct M-PESA number and click Add Mobile Wallet.
Skrill to M-PESA Money Transfer
Congratulations on adding your M-PESA number to your Skrill wallet. Now it's time to withdraw your money to M-PESA. Follow these steps:
Click the Withdraw button.
Select the Mobile Wallet option and then click Next.
Enter the amount in USD and then click Next.
Confirm the amount, and that's it. Your money will hit your M-PESA account in less than 20 minutes.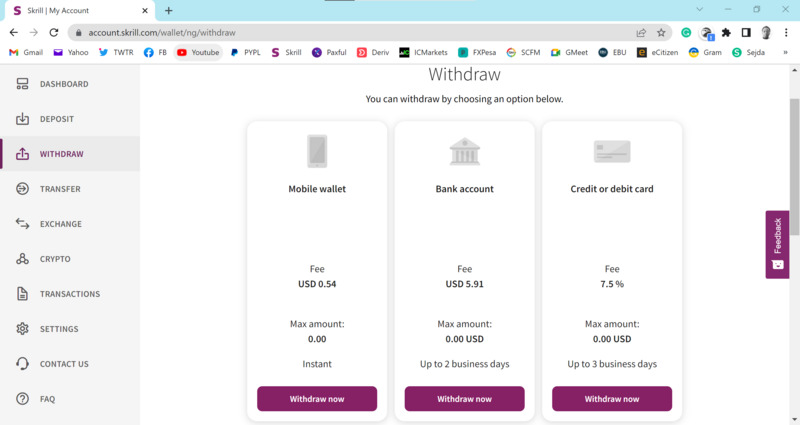 Please note that you can only request up to 3 withdrawals in KES within 24 hours.
How to Sign Up for a Skrill Account
Follow these simple steps to open a Skrill account;
Go to www.skrill.com
Register by entering your details.
Confirm Your Email – Head to your Inbox and click the Confirm Email button.
And that's it!
How to Verify Your Skrill Account
It's essential to register and verify your Skrill account. This part of the process serves as an additional security layer to your account against fraud and data theft.
Before you start, here is what you need;
Your government-issued ID and proof of address in hand.
A computer equipped with a webcam or a mobile phone with a camera.
Enable the pop-up windows on your browser.
Now, here is how to verify your account:
Log into your Skrill account via a web browser.
Go to Settings.
Go to Personal details, then Phone number.
You'll see the options to Add, Verify and Edit your mobile number.
Enter your new number (including the country code) and receive a 6-digit verification code via SMS.
Complete your identity verification by submitting a picture of your National ID (Front and Back) and your face selfie. This is to ensure that your face matches your ID.
Submit a PDF of your KRA Pin Certificate to verify your Address.
Verifying your Skrill account increases your account limits and ensures continuous access to all your Skrill wallet benefits.
Please note that Skrill does not review or accept documents sent via email.
What Is Skrill and How Does It Work?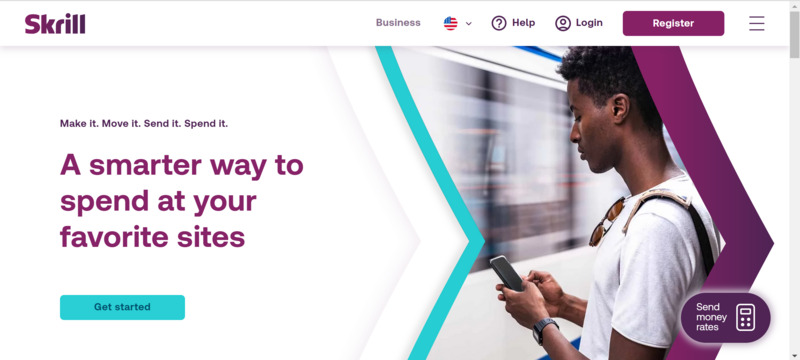 Skrill is an online cross-border payments provider headquartered in London, UK. It was established in 2001 to provide a wide range of online payment services and international money transfers.
The platform offers fast, secure Payments, and signing up for a Skrill account is super-fast. Since its launch, the payment provider has rapidly expanded.
Skrill currently offers services in more than 130 countries, dependencies, and territories. Additionally, Skrill has provided a list of countries where its services are unavailable.
In 2015, Paysafe Group acquired Skrill and its former competitor, Neteller, and PaySafeCard—a Prepaid Card Payment Provider.
Services Offered by Skrill
Skrill offers various services, including:
Sending and receiving money across the globe.
Online shopping at Skrill-accepted stores.
Buying and Selling of Cryptocurrencies, for example, Bitcoin.
Skrill Prepaid Cards – available in four currencies (USD, GBP, EUR, and PLN).
Benefits of Using Skrill
There are various reasons you should sign up for a Skrill account today.
Convenience – Skrill allows its clients to make transactions fast and conveniently anytime and anywhere. Additionally, customers can link their Skrill e-wallets with their bank accounts.
License and Regulation – Skrill is licensed and regulated by various government regulatory bodies. Skrill Limited, which operates outside the European Economic Area, holds its activities by the Financial Conduct Authority.
Security – Skrill is one of the world's safest and most secure online payment providers. It uses anti-fraud security measures to flag any suspicious account activities.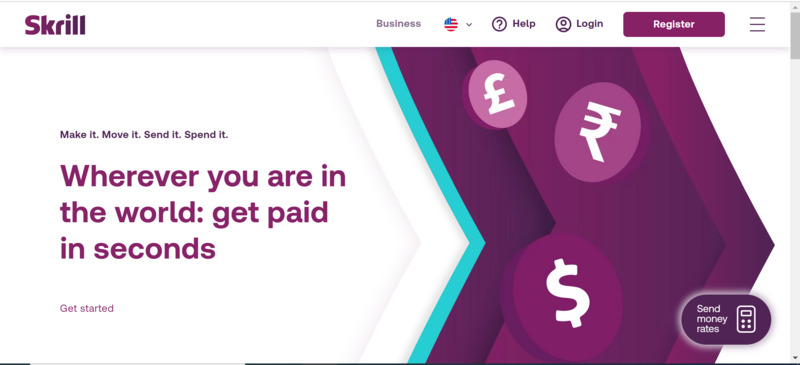 Skrill encrypts all transactions and personal details using secure sockets layer (SSL) protocol technology with 128-bit encryption certified by VeriSign.
Clients can also enable two-factor authentication and use a strong password for added security.
Access Your Skrill Money on M-PESA
Withdraw your money from your Skrill Wallet to your M-PESA account using the above method. If you have followed the method above, you already have money in your M-PESA.