Video content is currently dominating the internet space. Audio content consumption has also been steadily growing in recent years in the form of podcasts.
If you want a slice of this multi-million dollar podcasting industry pie, starting out is as simple as owning a smartphone and the cheapest mic you can find.
How Much Does It Cost to Start a Podcast?
Not much really, since you already have what you need in your hands as you're reading this post. An iPhone, any Android smartphone, an iPad, or a tablet.
All these devices come with inbuilt mics so you'll have no excuse for not getting started as soon as you finish reading this guide.
You can also use an earphone mic if you own a decent pair of earphones or headphones.
If you're willing to upgrade your sound recording capability, you can get a phone lavalier mic for less than 20 dollars. However, this is an optional purchase.
My advice would be to start investing in professional gear later on after you've started garnering a decent following and fully understand the workings of a podcasting business.
How to Start Podcasting on Your Phone
The process is identical for both iOS and Android users. To get started on both platforms, here's what you need to do;
1. Head over to the App Store or Play Store and download an app called Anchor published by Spotify. It's 100 percent free.
2. Follow the prompts and create an account via email, Google Account, or Apple Account.
3. Tap on the I want to make a new podcast tab.
4. On the bottom right, tap on Your Podcast.
5. Click on the three vertical menu dots in the top right corner of the resulting screen.
6. Tap on Podcast settings.
7. Tap on the Set up your podcast now button on the resulting screen.
8. Here you can type your desired podcast name and your profile URL. You'll have to copy and paste the URL from the Account settings option shown in the picture above.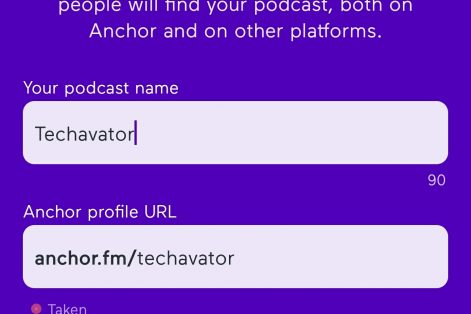 9. Add a podcast description on the next screen.
10. You'll be prompted to set up a podcast cover photo on the next screen. You can upload one from your Camera Roll. If you don't have a photo, Anchor will select a stock image for you from a large pool if you opt to do so.
11. In the next step you can add text to the photo and customize it accordingly.
12. Choose a category and language that your podcasting will focus on and use respectively.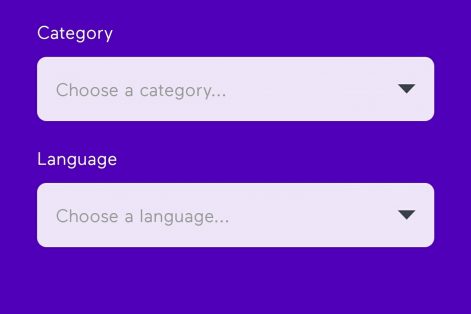 13. The last step will be to publish your podcast to all major platforms (Podcasts, Spotify, Google Podcasts, etc). Anchor will do this for you once you click on the Publish my podcast button.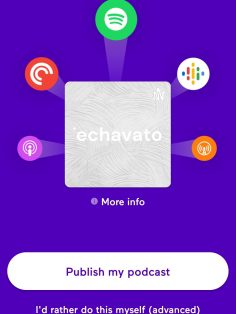 Setting Up Your First Podcast Recording on Anchor
Our new podcast is available on all major platforms so we now have to record actual audio to be broadcast on the podcast. Anchor makes this process as simple as they come;
1. Open Anchor from your app drawer.
2. Tap on the Tools button at the bottom center of Anchor's home screen.
3. Several buttons will pop up at the bottom. Click on the Record button.
4. Start talking into your phone's mic or a connected mic if you have one. You can record for a maximum of two hours. You can record different segments and merge them later within the app.
5. While recording, you can tap the Add flag button where necessary to help with later editing.
6. Once you stop recording, you can use the Edit and Trim buttons to edit your recording. You can also use the Add background music button to add music.
7. Once you're done, tap on the Save button at the bottom of the screen.
8. Tap on Add recording to episode on the next screen and label your recording.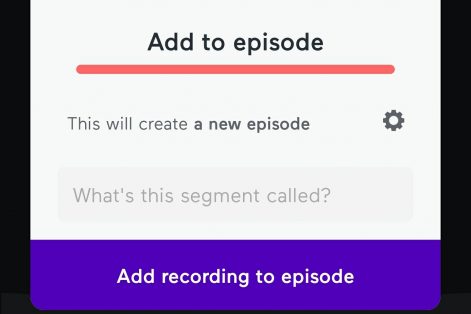 9. Tap on the Publish button on the top left of the next screen.
10. You'll be prompted to give your recording a title, description, and other identifying parameters.
11. After counter-checking all details, tap on the Publish now button.
12. Your first podcast episode is now live on all major podcasting platforms.
Is Anchor Available on PC?
Yes. You can do all that you can do on the mobile app by going to anchor.fm on your computer browser.
The web version of the app has all the functionality but you'll need an external mic for the best recording experience.
Wrapping Up
Starting a podcast on your phone is easy if you follow the steps described above. You can start right away regardless of your budget.
Most modern smartphones have a decent mic that can get a small podcast going.
So, what's your excuse? The power and all the tools are already in your hands. Download Anchor on your store and get your voice to work!